Computing Research News
August 2014 Vol. 26/No.7
New Look for CRA Unveiled at the 2014 CRA Conference at Snowbird
By CRA Staff
We are proud to announce the launch of a new brand for CRA and its committees. As the impact of CRA's activities are becoming more widely recognized and valued across our industry, we decided to develop a new brand identity that reinforces and amplifies our mission, objectives and programs. Our new brand is part of our larger effort to create a comprehensive communications strategy for CRA and its many activities. After updating our mission statement, last fall we began developing a brand that positions CRA as dynamic and collaborative, while preserving the unique identities of CRA's distinct committees.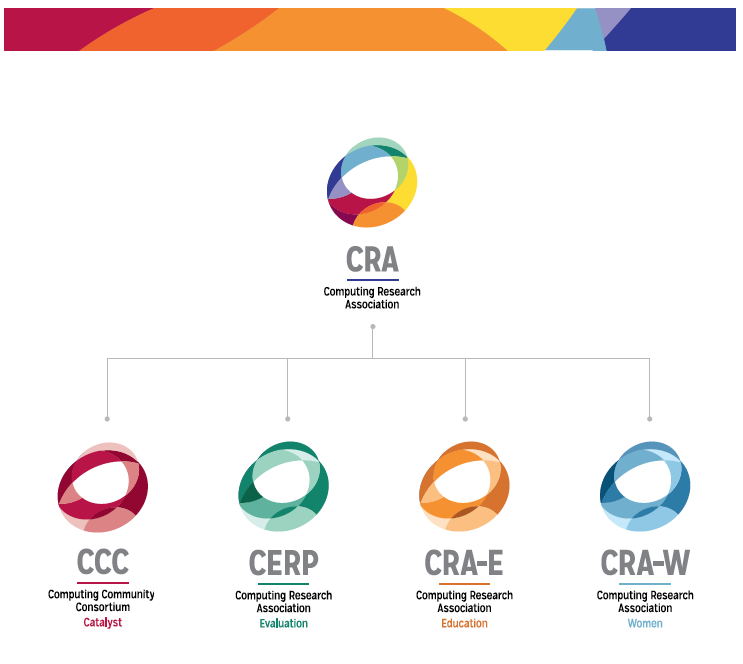 The new CRA symbol is designed to represent great minds coming together. The symbol was created by combining many ovals of different sizes into one symbol to illustrate dynamic collaboration. Each committee's logo is a different color to both strengthen its individual identity and connect it to the organization as a whole.
Attendees at the 2014 CRA Conference at Snowbird were among the first to view the new brand. We are excited to debut our new visual identity for all of CRA's committees and programs.
CRA-W BECA Awards: Recognizing Junior Researcher Achievements
By Sandhya Dwarkadas
The CRA-W Borg Early Career Award (BECA) is named in honor of the late Anita Borg, who was an early member of CRA-W and an inspiration for her commitment to increasing the participation of women in computing research. BECA targets women who are relatively early in their careers (at most 8 years post-PhD) with the goal of encouraging active contributions to helping increase the number of women in the computer science and engineering research community. The annual award is given to a woman in computer science and/or engineering who has made significant research contributions and who has contributed to her profession, especially in outreach to women. The award recognizes researchers in both academic and industrial/government research lab settings who have had a positive and significant impact on advancing women in the computing research community while serving as exemplary role models.
Past recipients include researchers from both academia and industry with distinguished research careers:
2013- Yanlei Diao, University of Massachusetts Amherst
2012- M. Bernardine Dias, Carnegie Mellon University and Katie A. Siek, University of Colorado Boulder
2011- Alexandra (Sasha) Fedorova, Simon Fraser University
2010- A.J. Brush, Microsoft Research and Radhika Nagpal, Harvard University
2009- Kim Hazelwood, University of Virginia
2008- Chandra Krintz, University of California, Santa Barbara
2007- Li-Shiuan Peh, Princeton University
2006- Gail Murphy, University of British Columbia
2005- Yuanyuan Zhou, University of Illinois at Urbana-Champaign
2004- Joanna McGrenere, University of British Columbia
The 2013 recipient, Yanlei Diao, works in the area of big data analytics and intelligent, real-time uncertain data management. Yanlei is an Associate Professor at the School of Computer Science, University of Massachusetts Amherst. She received her PhD in Computer Science from the University of California, Berkeley in 2005. Her technical contributions have had a significant impact in industry, resulting in research awards from Cisco, Google, IBM, and NEC labs, among others, in addition to collaborations with leading medical institutes. Yanlei is currently Editor-in-Chief of ACM SIGMOD Record and Associate Editor of ACM Transactions of Database Systems (TODS).
Yanlei likes to choose challenging research topics that are grounded in reality. Her past work on data stream processing and uncertain data management is key to a variety of applications such as severe weather monitoring, computational astrophysics, and object tracking and monitoring. Recently, she has broadened her research to include genomics, in particular, using big data technology to decipher human genomes efficiently and accurately, with an ultimate goal to help combat cancer and realize the vision of personalized medicine.
Yanlei is fully committed to broadening the participation of women in computer science research. The person who initially introduced Yanlei to research was her Master's thesis advisor, Prof. Hongjun Lu. Prof. Lu's passion for research and caring for students deeply influenced Yanlei. Prof. Lu's passing after a long battle with cancer strengthened Yanlei's resolve to nurture the next generation of talented minds, as the best way for her to repay the debt that she owed both Prof. Lu and many others who supported and helped her along the way.
Yanlei has played a leadership role in outreach both in her school and in her research community. At UMass, she is co-chairing the outreach committee of her school, with the goal of attracting more high school girls and women to computing. In her research community, she twice chaired the New Research Symposium at SIGMOD, which provides career advice and mentoring to graduate students and junior researchers, including many women. Yanlei is also a frequent speaker at mentoring workshops, including the CRA-W Graduate Cohort workshop and the SIGMOD DBMe mentoring workshop.
2014 is the 11th year the BECA award has been made. The 2014 recipient of the BECA award is Jaime Teevan, a Senior Researcher at Microsoft Research, and an Affiliate Assistant Professor in the Information School at the University of Washington. She received a Ph.D. in 2007 and an S.M. in 2001 from MIT, and a B.S. in Computer Science from Yale University. Working at the intersection of human computer interaction, information retrieval, and social media, she studies and supports people's information seeking activities. Jaime was named a Technology Review (TR35) 2009 Young Innovator for her research on personalized search. She co-authored the first book on collaborative Web search and was chair of the Web Search and Data Mining (WSDM) 2012 conference. Jaime also edited a book on Personal Information Management (PIM), edited a special issue of Communications of the ACM on the topic, and organized workshops on PIM and query log analysis.
When asked what she loves most about her job, Jaime says, "One of my favorite parts of being a researcher is that I have the freedom to explore whatever I think will be most impactful in the world." Her research explores how context can help people use digital information successfully, both from an algorithmic perspective and from an interaction perspective. In particular, she looks a lot at the personal, social, and temporal context of information use. Her goal is to use context to make the right information available at the right time in a lightweight and intuitive manner.
Jaime is passionate about mentoring young researchers and encouraging women to pursue computer science careers. She works with a number of graduate students, a high percentage of whom are female, talks regularly on topics related to gender and family, and publishes a popular web series on academic writing. As a mother to four young children, Jaime is particularly interested in helping researchers integrate parenthood with their academic pursuits. For example, she has written several articles about conference travel with children, and worked with conference organizational committees to implement better support for attendees with families.
Jaime often brings her children with her to conferences. Regarding parenthood, Jaime says, "People often ask me for the secret to having little children and a productive research career, but, unfortunately, if there is one, I haven't discovered it. It's a lot of work, and the only way I succeed is with a lot of support. My husband is an involved partner and father, and my job provides a lot of flexibility. I do, however, find that parenthood and research are complementary. Being a mother makes me a better researcher, and vice versa. My children force me to allocate my time productively, prioritize sleep, and approach problems creatively. And conversely, being able to escape to the office sometimes keeps me from going crazy with all the noise, mud, and chaos at home."
The 2014 BECA award was officially presented to Jaime at SIGIR 2014 in Australia by Susan Dumais, Jaime's manager and long-time mentor, who also gave her Athena Lecture there. One of Jaime's seven-year-olds was there with her to celebrate.
About the Author: Sandhya Dwarkadas is professor and chair of the Computer Science Department at the University of Rochester. She is a CRA-W board member and chair of the BECA awards committee. She received her M.S. and Ph.D. from Rice University, and her B.S. from the Indian Institute of Technology, Madras. Her research addresses problems at the boundary of hardware and software, at the architecture and runtime level, with a particular focus on concurrency.
Announcements
By CRA Staff
Conquer: A new website on undergraduate research and graduate school for students, mentors, and advisers
What is research in computer science? How can I find a research experience? Why should I consider going to graduate school in computer science? What are graduate schools looking forand how do I apply? These are questions undergraduates often ask their advisers and instructors. The new Conquer website (conquer.cra.org) seeks to provide answers.
The many valuable resources on the Conquer site include:
Material for students on CS research, what graduate school is all about, and how to apply to graduate school.
Resources for faculty on best practices in mentoring undergraduates in research, funding opportunities for involving undergraduates in research, and resources for advising students on careers in research and applying to graduate school.
A complete slide deck advisers and faculty can use for a presentation on "Why Go To Graduate School?"
A listing service where faculty can post summer research opportunities and undergraduates can search for opportunities as well as links to REU sites and other undergraduate research programs
Please share this site with your students and colleagues. We also encourage you to place a link to the Conquer site on your departmental website.
Conquer is co-sponsored by CRA, CRA-E, CRA-W, CCC, NCWIT, and CDC.
CRA Hosts 2014 Tisdale Fellows Luncheon
From left to right: Maxwell Kennedy, Business Software Alliance (Angelo State University), Valerie Hartwick, Dell Computers (University of Virginia), Man Nguyen, Technology CEO Council (UCLA), Cody Giddings, Hewlett Packard (University of Michigan), Yiyang Shen, Computing Research Association (NYU), Jorge Benavides, Worldwide Insight (UC Berkeley)
Taulbee Heads-up: Changes to the CRA Taulbee Survey for Fall 2014
In Fall 2014, the CRA Taulbee Survey will begin using a new survey platform. The content of the survey is not changing, but the process is. One early difference will be in assigning user IDs. Previously, there was one password per department or academic unit that was shared among everyone who entered data into the system for that unit. Now, each system user will have his or her own ID.
If you are a department chair or someone with Taulbee responsibility for your academic unit, you should hear from Betsy Bizot, CRA Director of Statistics and Evaluation, no later than August 15th, requesting a list of the individuals who should be authorized Taulbee users for your unit. If you do not hear from Betsy, please contact her at bizot@cra.org or survey@cra.org
The September CRN will have more information about the 2014 Taulbee, including due dates and a preview of system changes.
As always, we appreciate the time the departments put into responding to the Taulbee survey.
Anne Condon Receives Technical Leadership ABIE Award Winner

"Dr. Anne Condon has made significant research contributions in computational complexity and bio-molecular computing. She is considered the world's leading expert on DNA and RNA sequence design, and among the leading figures in DNA and RNA folding prediction. She has increased the numbers and success of women in computing research in the U.S. and Canada, both through flagship projects of CRA-W and through her own research supervision and mentoring."
What's Going on at the Computing Community Consortium (CCC)
By CCC Staff
New Council Members
The CCC Council is comprised of 20 members who have expertise in diverse areas of computing. They are instrumental in leading CCC's visioning programs, which help create and enable visions for future computing research. Members serve staggered three-year terms that rotate every July. The Computing Research Association, in consultation with the National Science Foundation, has appointed six new members to the Computing Community Consortium Council, who began their terms this July 1:
Lorenzo Alvisi, University of Texas at Austin
Vasant Honavar, Pennsylvania State University
Jennifer Rexford, Princeton University
Debra Richardson, University of California—Irvine
Klara Nahrstedt, University of Illinois at Urbana- Champaign
Ben Zorn, Microsoft Research
The CCC, CRA and NSF thank those Council members whose terms ended on June 30 for their exceptional dedication and service to the CCC and to the broader computing research community:
Edward Lazowska, University of Washington; founding Chair of CCC
Anita Jones, University of Virginia, founding member of CCC
Deborah Crawford, Drexel University
Fred Schneider, Cornell University
Josep Torrellas, University of Illinois at Urbana- Champaign
With the rotation of new Council members, a new Executive Committee was formed to lead the Council:
Greg Hager, Johns Hopkins University (Chair)
Elizabeth Mynatt, Georgia Tech (Vice Chair)
Liz Bradley, University of Colorado, Boulder
Mark Hill, University of Wisconsin, Madison
Bob Sproull, formerly Sun Labs
Aging in Place Workshop
The CCC will hold a workshop on Aging in Place that will bring together needed interdisciplinary expertise, assess the state of the science at the human, medical, and technology levels, and articulate a research vision for a systems engineering approach to the development of technologies and solutions to support the home management of persons with significant chronic diseases and their family care providers. Effective home management of such chronic diseases as dementia, heart failure, hypertension, chronic obstructive airway disease (COPD), and asthma would reduce hospitalizations and other healthcare costs and improve quality of life. Currently, there is a paucity of research in these aging in place technologies (AiPT) from a systems approach that includes the expertise of both health and computer science. This workshop will discuss challenges and opportunities and provide a research agenda regarding the next steps needed in the development and application of technology to home management of chronic diseases.
The workshop will be held September 10-11 in Bethesda, MD. For more information on this workshop, please visit our website or contact Ann Drobnis (adrobnis@cra.org).
Uncertainty in Computation Workshop
The CCC will hold a workshop on Uncertainty in Computation to discuss the future research directions related to the modeling of uncertainty in computations and the ways in which the uncertainty inherent in many computational processes can be communicated to those tasked with making decisions based on such data. Uncertainty quantification for computational simulations is a maturing discipline, but little study has yet gone in to the relationship between uncertainty quantification and the communication of uncertainty to decision makers. Data analytics is rapidly becoming far more sophisticated and enjoying widespread use, but is still largely lacking in well principled methods for quantifying uncertainty associated with the information contained in large data sets. The field of decision science recognizes the importance of understanding decision making under uncertainty, but much of this work is not closely integrated with either formal uncertainty quantification or the explosion of computational uncertainty associated with data analytics.
The workshop will address these issues in two ways. A set of research challenges will be defined that, if solved, will make the computation and utilization of uncertainty more ubiquitous in a variety of computing applications and systems. In addition, joint goals and methods between different disciplines identified to help establish an interdisciplinary agenda for addressing challenges that uncertainty poses. Success in these efforts will accomplish better decision making through a better understanding of uncertainty, better understanding of models and their accuracy by data analysis and simulation scientists, and increased credibility of computational estimates and simulations by the public through better understanding of uncertainty.
The workshop will be held October 15-16 in Washington, DC. For more information on this workshop, please visit our website or contact Ann Drobnis (adrobnis@cra.org).
Recent ISAT/DARPA Workshop Targeted Approximate Computing
By CCC Blog
A special contribution to the CCC blog by CCC Executive Council Member Mark Hill and workshop organizers Luis Ceze, Associate Professor in the Department of Computer Science and Engineering at the University of Washington, and James Larus, Full Professor and Head of the School of Computer and Communication Sciences at the Ecole Polytechnique Federale de Lausanne.
Please read this article at the CCC Blog.
2014 CRA Conference at Snowbird
By CRA Staff
The leadership of North American computing research community convened July 20-22, in Snowbird, UT. The biennial CRA Conference at Snowbird is our flagship conference where the leadership of the computing research community gathers to network and discuss common issues concerning the future of the field.
Outstanding speakers and panels addressed issues at the core of CRA's mission, from future research challenges, to growing the research pipeline, to major issues of policy and government.
Computing and the Human Experience: The opening plenary session was an inspiring session by Grady Booch, IBM Research. In his plenary session, he examined the story of computing as it has unfolded across time, ending with an exploration of where it might lead us and how we might ourselves be more intentional in directing it.
A Policy Wonk's Plea for More and Better Policy Research and Engagement from Computer Scientists: Peter Swire, Georgia Tech, a gave a talk offering his reasons why computer scientists should produce more explicitly policy-oriented research and become more involved personally in the policy process. He also shared ways that technologists can successfully navigate the unfamiliar culture and processes of political and policy debates. Slides from the presentation can be found here.
Quantum Computing: Transforming the Digital Age: Krysta Svore, Microsoft Research, showcased recent advances in quantum computing. Quantum devices have also significantly advanced such that components of a scalable quantum computer have been demonstrated in a variety of quantum systems. In her talk, she revealed some of the mysteries of this disruptive computational paradigm. She demonstrated recent advances in quantum algorithms for real-world applications and in scalable, fault-tolerant devices.Slides from the presentation can be found here.
Broadening the Computing Research Community: Maria Klawe, Harvey Mudd, encouraged increasing diversity in the computing research community. While our discipline does well in encouraging members of underrepresented groups to go on to graduate programs, we have been less successful in attracting members of these groups into undergraduate programs. This talk discussed successful strategies for significantly increasing the number of women and students of color majoring in computer science.Slides from the presentation can be found here.
Making a Federal Case for Computing: CRA's own Peter Harsha explained the new landscape for science policy and discuss what CRA and CRA's partners in the science advocacy community are doing to navigate in it. Slides from the presentation can be found here.
The Computing Community Consortium (CCC) led a variety of sessions throughout the conference. Excitement was high for the programs being put on by the CCC:
Computing Visions 2025: The Visions 2025 initiative was created to inspire the computing community to envision future trends and opportunities in computing research. A panel comprised of members from the Visions 2025 steering committee discussed the two workshops which have already happened and the future of this initiative. Slides from the presentation can be found here.
Computing Research Futures: Computing research continues to be at the forefront of innovation, impacting society in ways never before imagined. Michael Franklin, UC Berkeley, began the evening talking about where the field of data science is going. Maja Mataric, University of Southern California, then spoke about socially assistive technologies.
Refining the Computer Science Postdoc Experience: The number of postdoc appointments in computer science has risen dramatically in the last ten years. There are concerns that postdocs be properly supported and mentored as they start their research careers. This panel presented results from the CCC CIFellows postdoc program and outlined efforts underway to refine and measure best practices for hosting postdocs and for supporting their career development. Slides from the presentation can be found here
New to the conference this year, were town hall discussion sessions that delved into developing a consistent timeline for graduate student acceptance notifications and the growing enrollments in computing courses. On Monday afternoon, attendees enjoyed a break from sessions to explore the natural beauty of the Snowbird location through guided hikes. Several hikers were lucky enough to see moose! Mark your calendars for the 22st biennial conference, which will take place in July 17-19, 2016, in the same beautiful location.
The conference agenda is posted online and contains links to presenter's slides.
Center for Evaluating the Research Pipeline Infographic August 2014
By Ama Nyame-Mensah, CERP Research Associate
Students of Racial Minority Benefit More from
Formal Research Experiences than Students of Racial Majority
CERP recently compared critical outcomes of 187 undergraduate computing students who had participated in a formal research experience (REU) during the 2012 academic year. Students of racial minority who had participated in a REU reported greater gains in (a) knowledge about the graduate admission process, (b) academic and career self-efficacy, and (c) intentions to persist in computing compared to students of racial majority. These findings suggest that REUs in computing provide students of racial minority with an opportunity to be better prepared to apply for graduate study and develop self-efficacy. Further, formal REUs may be a particularly effective strategy for facilitating the matriculation of racial minority students through the computing pipeline.
Note: Racial minority students = Black or African Americans + Hispanics/Latina/os + Native Americans/Alaskan Natives (n = 31). Racial majority students = White students + Asian/Asian Americans + Pacific Islanders/Native Hawaiians (n = 156). A formal REU was classified as any of the following: undergraduate research experience at home institution, undergraduate research experience at another institution, or a research internship. Gains in knowledge about the graduate admission process were measured by aggregating three items assessing students' increased knowledge in the following areas: Criteria for admission to graduate programs; How to get financial support for graduate school; How to select the right graduate program for you (1 = None – 5 = A lot). Gains in academic and career self-efficacy were measured by aggregating five items that asked students to indicate how much their formal REU experience increased their confidence in the following areas: Complete your undergraduate degree in computing; Get admitted to graduate school in computing, if you choose to; Complete a graduate degree in computing; Become a capable researcher in computing; Have a successful career in computing (1 = None – 5 = A lot). Gains in intentions to persist academically in computing were measured by aggregating four items, which asked students to indicate how much their formal REU experience increased the likelihood that they would do the following: Study computing in graduate school; Attend graduate school immediately after finishing your undergraduate degree; Earn a master's degree in computing; Earn a PhD in computing (1 = Much less likely – 5 = Much more likely).
This analysis brought to you by the CRA's Center for Evaluating the Research Pipeline (CERP). Want CERP to do comparative evaluation for your program or intervention? Contact cerp@cra.org to learn more. Be sure to also visit our website at http://cra.org/cerp/.
New Leadership at CCC
By Gregory D. Hager, CCC Chair
The Computing Community Consortium (the "CCC") was created to catalyze and enable computing research, to promote "audacious thinking", and to align the interests of the computer science community with problems of national interest. Since its beginnings in 2006, the CCC, under the leadership of its founding chair, Ed Lazowska, and founding vice-chair, Susan Graham, has unquestionably had a transformative impact through its Visioning workshops, Visions and Challenges conference tracks (now Blue Sky Ideas Tracks), the Leadership in Science Policy Institute, the Computing Innovation Fellows program, and more. Major multi-agency funding programs, including Big Data, the National Robotics Initiative, and Smart and Connected Health, have all been influenced by the CCC in one way or another.
This year marked a "coming of age" for the CCC as I succeeded Susan Graham as Chair of the council, and Beth Mynatt (Georgia Tech) became Vice-Chair. This initiates a planned two-year succession of Chairs of the council, as prescribed by our newly minted bylaws. In short, the CCC has transitioned from "startup mode," and is now operating as a long-term sustainable organization, fully chartered as a sub-committee of CRA and funded under a cooperative agreement by NSF.
Following Ed and Susan as chair is going to be a real challenge. However, the beauty of Computer Science is its remarkable ability to continually reinvent and redefine itself, and so also for the CCC. If I were to articulate one overarching goal for my chairmanship, it would be to further empower the council, and the community at large, to embrace change, to actively debate and challenge each other with new ideas, and to invent new ways to enhance and communicate the vitality and impact of computing research.
So, what lies ahead for the CCC? The future is never certain, but here are a few thoughts on where the computing community (and CCC) will be headed as our field continues to push the boundaries in both core technologies and enabling new interdisciplinary fields.
I believe that we're seeing the beginnings of computing firmly embracing the physical world. The so-called "internet of things," cyber-physical systems, the maker movement, robotics, and agile manufacturing are all rapidly gaining prominence as computing research problems with high societal and economic implications. Computing in the physical world poses new computer science challenges in safety, security, reliability, human-computer interfaces, distributed systems, verifiable software, power-efficient hardware --- nearly every aspect of computing research.
Computing in the social sphere is beginning to open up new opportunities in collaborative computation, crowd sourcing, and quantitative social science, not to mention the importance for continued research in privacy and security.
The newly announced presidential B.R.A.I.N. initiative offers unique opportunities for a rapprochement of biological intelligence and artificial intelligence, neuromorphic systems, and entirely new opportunities for developing integrative models across physical scale, physiological mechanism, and function.
Finally, as our field has grown, more than half of our PhDs now take non-academic positions – primarily industrial research and development. It is time to consider the implications of this change, now a decade old, for our field.
In closing, I want to emphasize that we are here for you, the computing community. Help us to help you by participating in CCC events, by proposing new ideas for Visioning Workshops, by bringing Blue Sky Ideas tracks to your conferences to encourage out-of-the box thinking, and by sending us your ideas and thoughts for how we can better serve the computing research community.