FADE (Fairness, Accountability, Disinformation, and Explainability) Task Force
Chair: Suresh Venkatasubramanian
Suresh Venkatasubramanian
University of Utah
Suresh Venkatasubramanian Website
---
Suresh Venkatasubramanian is a professor at the University of Utah. His background is in algorithms and computational geometry, as well as data mining and machine learning. His current research interests lie in algorithmic fairness, and more generally the problem of understanding and explaining the results of black box decision procedures. Suresh received a CAREER award from the NSF for his work in the geometry of probability, as well as a test-of-time award at ICDE 2017 for his work in privacy. His research on algorithmic fairness has received press coverage across North America and Europe, including NPR's Science Friday, NBC, and CNN, as well as in other media outlets. He is a member of the board of the ACLU in Utah, and is a member of New York City's Failure to Appear Tool (FTA) Research Advisory Council.

Nadya Bliss
Arizona State University
Nadya Bliss Website
---
Dr. Nadya T. Bliss is the Director of the Global Security Initiative (GSI) at Arizona State University. GSI serves as the university-wide hub addressing emerging security challenges, including borderless threats (cyber security, health security, and resource security). These challenges are often characterized by complex interdependencies and present conflicting objectives requiring multi-disciplinary research and cross-mission collaboration. Prior to taking on the GSI role, Dr. Bliss served as the Assistant Vice President, Research Strategy in the Office of Knowledge Enterprise Development.
Dr. Bliss holds a Professor of Practice appointment (and is a member of Graduate Faculty) in the School of Computing, Informatics, and Decision Systems Engineering; Senior Sustainability Scientist appointment in the Julie Ann Wrigley Global Institute of Sustainability; and affiliate appointments in the School for Future of Innovation in Society, the Center on the Future of War (collaboration between ASU and New America), and the Simon A. Levin Mathematical, Computational and Modeling Sciences Center. Dr. Bliss is also a Senior Fellow at New America. Before joining ASU in 2012, Dr. Bliss spent 10 years at MIT Lincoln Laboratory, most recently as the Group Leader of the Computing and Analytics Group.
Liz Bradley
CCC Vice Chair
University of Colorado, Boulder
Liz Bradley Website
---
Liz Bradley received the S.B., S.M., and Ph.D. degrees from the Massachusetts Institute of Technology in 1983, 1986, and 1992, respectively, including a one-year leave of absence to compete in the 1988 Olympic Games. She has been with the Department of Computer Science at the University of Colorado at Boulder since January of 1993; she also holds appointments and affiliations with a variety of engineering departments. Her current research activities focus on nonlinear dynamics and chaos, as well as scientific computation and AI. She is a member of Eta Kappa Nu, Tau Beta Pi, and Sigma Xi, as well as the recipient of a National Young Investigator award, a Packard Fellowship, and the 1999 College of Engineering teaching award.

Juliana Freire
New York University
Juliana Freire Website
---
Juliana Freire is a Professor of Computer Science and Engineering and Data Science at New York University. She holds faculty appointments at the Tandon School of Engineering, Center of Data Science, Courant Institute for Mathematical Science, and Center for Urban Science. She is the executive director and principal investigator of the NYU Moore-Sloan Data Science Environment. Her recent research has focused on big-data analysis and visualization, large-scale information integration, web crawling and domain discovery, provenance management, and computational reproducibility.
Prof. Freire is an active member of the database and Web research communities, with over 180 technical papers, several open-source systems, and 12 U.S. patents. She is an ACM Fellow and a recipient of an NSF CAREER, two IBM Faculty awards, and a Google Faculty Research award. She has chaired or co-chaired workshops and conferences, and participated as a program committee member in over 70 events. Her work has been funded by the National Science Foundation, DARPA, Department of Energy, National Institutes of Health, Sloan Foundation, Gordon and Betty Moore Foundation, W. M. Keck Foundation, Google, Amazon, AT&T, the University of Utah, New York University, Microsoft Research, Yahoo! and IBM.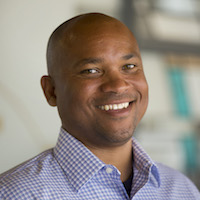 Chad Jenkins
University of Michigan
Chad Jenkins Website
---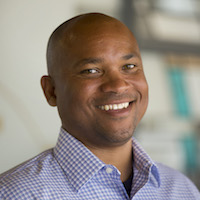 Odest Chadwicke Jenkins, Ph.D., is an Associate Professor of Computer Science and Engineering at the University of Michigan. Prof. Jenkins earned his B.S. in Computer Science and Mathematics at Alma College (1996), M.S. in Computer Science at Georgia Tech (1998), and Ph.D. in Computer Science at the University of Southern California (2003). He previously served on the faculty of Brown University in Computer Science (2004-15). His research addresses problems in interactive robotics and human-robot interaction, primarily focused on mobile manipulation, robot perception, and robot learning from demonstration. His research often intersects topics in computer vision, machine learning, and computer animation.
Prof. Jenkins has been recognized as a Sloan Research Fellow in 2009. He is a recipient of the Presidential Early Career Award for Scientists and Engineers (PECASE) for his work in physics-based human tracking from video. His work has also been supported by Young Investigator awards from the Office of Naval Research (ONR) for his research in learning dynamical primitives from human motion, the Air Force Office of Scientific Research (AFOSR) for his work in manifold learning and multi-robot coordination and the National Science Foundation (NSF) for robot learning from multivalued human demonstrations. Prof. Jenkins is a Senior Member of the Association for Computing Machinery and the Institute of Electrical and Electronics Engineers. He is currently a member of the Defense Science Study Group (2018-19).
Ronitt Rubinfeld
Massachusetts Institute of Technology
Ronitt Rubinfeld Website
---
Ronitt Rubinfeld is a professor in the Department of Electrical Engineering and Computer Science and a member of the Computer Science and Artificial Intelligence Laboratory at MIT. Ronitt is also on the faculty of the Computer Science Department at Tel Aviv University. Ronitt's main research area is the study of algorithms which run in sublinear time. Ronitt received her PhD from the University of California, Berkeley in 1991. Prior to her position at MIT, Ronitt was on the faculty at Cornell University and at NEC Research Labs. She was an ONR Young Investigator, a Sloan Research Fellow, the 1995 Cornell Association for Computer Science Undergraduates Faculty of the Year, and a recipient of the Cornell College of Engineering Teaching Award. Ronitt has given an invited lecture at the International Congress of Mathematicians in 2006, and is an ACM Fellow.
David Parkes
Harvard University
David Parkes Website
---
David C. Parkes is the George F. Colony Professor of Computer Science in the Paulson School of Engineering and Applied Sciences at Harvard University, where he founded the EconCS research group and leads research with a focus on artificial intelligence, machine learning, and economics. He is co-director of the Harvard University Data Science Initiative, a faculty co-lead for planning the expansion of the Paulson school into the Allston campus, and was Area Dean for Computer Science, 2013-2017. Parkes served on the inaugural panel of the "Stanford 100 Year Study on Artificial Intelligence," co-organized the 2016 OSTP Workshop on "AI for Social Good," and served as chair of the ACM Special Interest Group on Electronic Commerce (2011-16). Parkes is Fellow of the Association for the Advancement of Artificial Intelligence (AAAI), and recipient of the 2017 ACM/SIGAI Autonomous Agents Research Award, the NSF Career Award, the Alfred P. Sloan Fellowship, the Thouron Scholarship, and the Roslyn Abramson Award for Teaching. Parkes has degrees from the University of Oxford and the University of Pennsylvania, serves on several international scientific advisory boards, and is a technical advisor to a number of start-ups.
This task force addresses the overlapping areas of fairness, accountability, disinformation, and explainability within algorithms, big data, and the Internet. This task force combines the works of the previous Fairness and Accountability and Information Integrity task forces.
Public materials related to the goals of this task force include:
The CCC's Privacy-related workshops include:
Towards a Privacy Research Roadmap for the Computing Community
In early 2015, the CCC commissioned members of the privacy research community to generate a short report to help guide strategic thinking in this space. The effort aimed to complement and synthesize other recent documents, including the White House BIG DATA: Seizing Opportunities, Preserving Values Report and the Report to the President on Big Data and Privacy: A Technological Perspective. In May, the CCC released the resultant community report, Towards a Privacy Research Roadmap for the Computing Community.
The editors of the paper describe a research agenda that seeks to lead the community to a state where:
We have a rigorous science of privacy that applies across different application domains;
We understand the needs, expectations, and incentives of the humans who use information systems, and can design systems that are sensitive to them;
Privacy technology research and privacy policy objectives are informed by and aligned with each other; and
We can engineer systems that enable us to enjoy both privacy and the benefits of data use to the maximum extent possible, showing that the tradeoff between the two can be much less stark than our current approaches offer
To reach this state, the editors believe that the research strategy needs to:
Emphasize understanding, defining, and measuring the privacy of information systems
Recognize and support the many stages and dimensions of privacy research
Enable interdisciplinary research strategies
Foster a technology-policy dialogue
Data, Algorithms, and Fairness
This video playlist comes from the Intelligent Infrastructure for Our Cities and Communities Panel at the 2017 Computing Research Symposium. Watch more presentations from the symposium here.
Moderator: Nadya Bliss, Arizona State University
Panelists:
Privacy by Design Workshops
The CCC also launched a series of four Privacy by Design workshops in 2015. The workshops are aimed at identifying a shared research vision to support the practice of privacy-by-design. They convene both practitioners with direct experience of the challenges in implementing privacy-by-design from a range of fields—software developers, privacy engineers, usability and interaction designers, chief privacy officers—and researchers from an equally broad range of disciplines.
Privacy by Design- State of Research and Practice
February 5-6, 2015
Regulators, academics and industry have called for privacy-by-design as a way to address growing privacy concerns with rapidly developing technology. The public and private sector are responding — hiring privacy engineers to join the ranks of privacy-oriented professionals, often working under the guidance of a chief privacy officer. Yet, implementing concepts of privacy through design is an open challenge and research area. There is a limited, disparate, and fragmented body of research affirmatively positioned as privacy-by-design.
Privacy by Design- Privacy Enabling Design
May 7-8, 2015
This workshop covered the latest research results in user interface design, usability and human factors including studies of user behavior and recent findings in privacy displays, nudging, privacy preference modeling, to name a few. While regulators attempt to drive privacy-by-design, there is little evidence that the class of professionals who consider themselves designers are engaged in the conversation.
Privacy by Design- Engineering Privacy
August 31-September 1, 2015
This workshop will survey emerging challenges in engineering privacy from applications of cryptographic protocols and privacy-preserving databases, to formal notations and programming languages in identity management, de-identification, and software specification. This survey will review known challenges, such as understanding privacy policies (e.g., privacy laws in regulated sectors like healthcare and finance; privacy promises in self-regulated sectors like Web services) in computational terms so that tools can be developed to help with their enforcement. The workshop will raise awareness of how well these results address the concepts and open problems identified in workshop #2, as well as serve to identify open research questions.
Privacy by Design- Catalyzing Privacy by Design
January 6-8, 2016
This workshop reviewed the lessons from workshops #1-3 and examine how existing regulatory models, along with other factors, shape organizations' understanding of privacy problems, approaches, and solutions. Building on workshop-generated insights on the strengths and limitations of current approaches—in terms of concepts, incentives, actors—the workshop considered how well regulatory models respond to privacy-by-design challenges, and identify open research questions. A goal of the overall project was to broaden the lens through which privacy-by-design is viewed by the research community—positioning technical design along side theoretical/conceptual, organizational, and regulatory design questions. Thus, gaining some understanding of the forces that drive the choice of methods, tools, and approaches is a core goal of engagement with industrial innovators. Building on insights from earlier workshops we identified open research questions about the relationship between regulatory form and other external and internal features of the privacy field, and the expression of privacy in firm practice.