Mentoring Tracks at Grace Hopper 
Upcoming
Are you planning to attend the next Grace Hopper conference?  Would you like to receive mentoring and career guidance from successful senior women in your field? CRA-WP sponsors mentoring sessions for:
Undergraduates
Learn about the what, why and how of undergraduate research, how to get accepted and then thrive in graduate school, and the differences between Master's and Ph.D programs.
---
WEDNESDAY, SEPT 26, 2018 11:30 a.m.—2 p.m.
CRA-W Mentoring Circles
CRA-W: Research Careers — What Are the Options? How Do I Get There
Mentors: Dilma DaSilva (Texas A&M University), Sandhya Dwarkadas (University of Rochester)
What does a research career in computing look like? What are the options in academia? Industry? government? What can you do to best prepare yourself for one of these careers? How do you successfully apply for them? Come chat with researchers in academia, industry, and government about these questions and more.
CRA-W: How to be Successful Post-Bachelor's
Mentors: Ayanna Howard (Georgia Institute of Technology), Amy Hughes (MIT Lincoln Laboratory)
You are well on your way to earning a bachelor's degree (congratulations!). What's next? Should you consider graduate school? Should you look for a full-time job? What are the pros and cons of these career decisions, and how can you set yourself up to be successful post-bachelor's? Come chat with professionals about the types of doors that are open with a bachelor's degree in computing. Bring your questions.
CRA-W: Is Graduate School For You?
Mentors: Susan Rodger (Duke University), Jodi Tims (Baldwin Wallace University)
Is graduate school in computer science and engineering for you? What benefits do you get once you have a graduate degree? Come chat with students and professionals from industry and academia who will help you understand what it's like to be in graduate school, and the options you'll have when you finish. Bring your questions.
CRA-W: Master's or Ph.D.?
Mentors: Cynthia Lee (Stanford University), Diane Myung-kyung Woodbridge (University of San Francisco)
Considering either a Master's or Ph.D.? Not sure about the difference? Come chat about the main differences in career options and in graduate studies between a Master's and Ph.D. degree. Topics include realistic goals and expectations for each degree and various strategies for deciding which degree to pursue. Bring your questions.
CRA-W: How to Successfully Apply to Graduate School
Mentors: Maria Gini (University of Minnesota), James Mickens (Harvard University)
How do you choose the right graduate school for you? Is there anything you can do during college to improve your chances of being admitted? What if you've been out of school and working for a while? How do you apply? What is the time line for completing the application process? What are the best kinds of recommendations? How can you fund graduate school? Come talk with professors about how to apply successfully to graduate school.
CRA-W: What is Computing Research? How Can Undergraduates Participate?
Mentors: Kelly Shaw (University of Richmond), Jeannie Albrecht (Williams College)
Interested in computer science research, but not sure what computer science researchers do? We will talk about the world of research, to help you decide if it's for you. We will also describe the different ways you can obtain a research experience during your undergraduate career, and the doors that these experiences will help open. Bring your questions.

Graduate Students
Learn how to thrive in graduate school, how to build your professional persona and network, and how to find your dream job. Senior graduate students may also be interested in topics for Early Career.
---
WEDNESDAY SEPT 26, 2018
11:30AM – 12:30PM
CRA-W CR230: I'm a Student Again: Heading to Graduate School After a Break
Dilma Da Silva (Texas A&M University), Claudia Roberts (Princeton University)
Considering graduate school after some time working? Already back in school? This session will cover how to position yourself to apply to graduate school, the difference between professional masters and Ph.D. programs, how graduate school differs from undergraduate and tips for being successful in graduate school. We'll have plenty of time for questions, so bring yours.
---
WEDNESDAY SEPT 26, 2018
1:00PM – 2:00PM
CRA-W CR231: It's a Marathon, Not a Sprint: Balancing Work and Life in Grad School and Beyond
Speakers:
Lydia Tapia (University of New Mexico), Hai Ah Nam (Los Alamos National Laboratory)
Feeling overwhelmed? We'll discuss strategies for maintaining balance in your life during graduate school and your career. Topics include achieving personal satisfaction in your career and family life, balancing your TA duties, courses, and research, and decision making strategies when career and family priorities seem to collide. We'll have time for self-reflection and questions, so bring yours.
---
WEDNESDAY SEPT 26, 2018
4:00PM – 5:00PM
CRA-W CR229: Finding Your Dream Job with a Ph.D.
Speakers:
Victor Bahl (Microsoft Research), Kelly Shaw (University of Richmond), Jess Smith (Pacific Northwest National Laboratory)
Curious about the range of post-Ph.D. career options including academia and industry? Join us for a panel session with speakers who will give you a sense of the wide range of job options from working at a company to teaching. This session is aimed at late stage graduate students and post-docs. We'll have practical advice on how to apply for jobs, interview and negotiate.
Early Career
Learn how to start, manage and grow your own research program and how to achieve success in your field.
---
WEDNESDAY SEPT 26, 2018
2:30PM – 3:30PM
CRA-W CR232: Building Your Academic Professional Network
Speakers:
A.J. Brush (Microsoft), James Mickens (Harvard University)
Effective networking is one of the most powerful tools in advancing your professional career. This skill can connect you to your community in meaningful ways, land you a dream job and help you score awards or promotions. Join us to learn how to present yourself and your ideas in a concise and appealing way, as well as how to deliberately build and nurture your professional network.
---
THURSDAY SEPT 27, 2018
9:00AM – 10:00AM
CRA-W CR305: Effective Teaching Tactics
Speakers:
Cynthia Lee (Stanford University), Susan Rodger (Duke University)
In this session, we will cover current theories on educational pedagogy and practical suggestions and resources to thrive in the classroom. We'll discuss planning course goals and objectives, options for how to use class time and ways to foster a fun, interactive learning environment. We will also present classroom management techniques and strategies for what to do if things don't go as planned.
---
THURSDAY SEPT 27, 2018
10:30AM – 11:30AM
CRA-W CR306: Building Your Professional Persona
Ayanna Howard (Georgia Institute of Technology), Soha Hassoun (Tufts University)
Social media, oh my! This session addresses the dos and don'ts of building a professional image. Topics will include web presence (personal pages and social media), social media postings, dissemination of technical contributions, and professional ethics.
---
THURSDAY SEPT 27, 2018
1:30PM – 2:30PM
CRA-W CR302: Conferences, Universities, and Companies are Work Places, Not Pickup Bars
Kathryn McKinley (Google), Kristian Lum (Human Rights Data Analysis Group)
Computer science researchers have a local work community at their university or company and a global work community largely realized by attending conferences. Many, including the two of us, have been speaking out about and against sexual harassment that occurs in these work places. This panel will explore how policies and community culture are evolving to better deter and punish harassment.
Mid to Advanced Career
THURSDAY, SEPT 27, 2018
12:00PM – 1:00PM
CRA-W CR304: Turning your Research into a Startup
Speakers:
Yuanyuan Zhou (University of California, San Diego (UCSD), Whova), Karina Edmonds (Google)

The ultimate goal of research is to make impact. Commercializing research into products via startups is one way to make such impact. However, switching to the start-up world requires some adjustments. We will discuss challenges we have encountered through our startup ventures, lessons learned and strategies to maximize your success.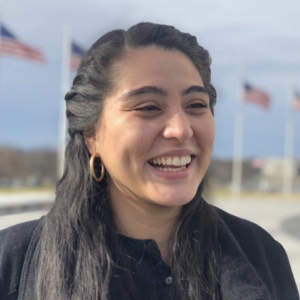 Alejandra Guzmán
Program Associate
This material is based upon work supported by the National Science Foundation under Grant Number (1840724). Any opinions, findings, and conclusions or recommendations expressed in this material are those of the author(s) and do not necessarily reflect the views of the National Science Foundation.