Skip Ellis Early Career Award
Deadline: February 15, 2020
Award Announcement: May 29, 2020
Overview
The Skip Ellis Early Career Award is in honor of Clarence "Skip" Ellis; he was the first African-American to earn a Ph.D. in computer science and the first African-American to be elected a Fellow of the ACM.
This annual award is given to a person who identifies as a member of a group underrepresented in computing (African-American, Latinx, Native American/First Peoples, and/or People with Disabilities), who has made significant research contributions in computer science and/or engineering and has also contributed to the profession, especially in outreach to underrepresented demographics. We invite your nominations for the Skip Ellis Early Career Award.
Eligibility
In order to be eligible for nomination, the nominee must be an individual who identifies as a member of an underrepresented group (African-American, Latinx, Native American/First Peoples, and/or People with Disabilities), in the computer science and engineering field, who has:
made significant research contributions,
had positive and significant impact on advancing women and diversity in the computing research community,
is relatively early-career (at most 8 years post Ph.D. on or after January 1 of the year of award) faculty member or researcher in an industry or government lab, and
is affiliated with an institution, industry lab, or government lab in the United States, its territories, or Canada.
---
If there are extenuating circumstances for applying beyond the timeframe listed in the eligibility requirements, please make sure you address this in the application. Extenuating Circumstances beyond an applicant's control include, but are not limited to:

Documented medical condition or serious illness
Documented learning disability
Death of a family member or friend
Involuntary call to active military duty
Maternity/family leave
Application
Application Materials:
In order to complete a Nomination, you will need to provide the following information:
Nominator Name and Contact Info
Nominee Name and Contact Info
Nominee's Educational History
Nominee's Biographical Sketch/CV
Nomination Letter
3 Supporting Letters – Nominator will provide the supporters' emails when submitting the nomination. Supporters will receive an email with instructions to upload the letters through a secure portal.
Other awards
CRA-WP Anita Borg Early Career Award (BECA)
This annual award is given to a woman in computer science and/or engineering who has made significant contributions in research, or her profession, and especially in outreach to women. This award recognizes work in areas of academia and industry/government research labs that has had a positive and significant impact on advancing women and diversity in the computing research community. The award is targeted at women that are relatively early in their careers. Nominations are due each year on February 15.
Harrold and Notkin Research and Graduate Mentoring Award
Harrold and Notkin Research and Graduate Mentoring Award is given in memory of Mary Jean Harrold's and David Notkin's outstanding research, graduate mentoring, and diversity contributions. The award recognizes faculty members from non-profit, U.S. institutions who combine outstanding research accomplishments with excellence in graduate mentoring, as well as those who advocate for recruiting, encouraging, and promoting women and minorities in computing fields.
Outstanding Undergraduate Researcher Award
This award program recognizes undergraduate students at North American universities who show outstanding research potential in an area of computing research.
Find more scholarships and awards!
Skip Ellis Award Recipients
2020 - Tawanna Dillahunt &
Tawanna Dillahunt
Tawanna Dillahunt is an Associate Professor at the University of Michigan's School of Information (UMSI) and holds a courtesy
appointment with the Electrical Engineering and Computer Science Department. Working at the intersection of human-computer interaction; environmental, economic, and social sustainability; and equity, her research investigates and implements technologies to support the needs of marginalized people. She and her team have developed digital employment tools that address the needs of job seekers with limited digital literacy and education; assessed real-time ridesharing and online grocery delivery applications among lower-income and transportation-scarce groups, and proposed models for novice entrepreneurs to build their technical capacity.
Tawanna has received funding to support her research from the National Science Foundation, the Gates Foundation, UM Poverty Solutions, UM Ginsberg Center, and the UM Ford School. Her work appears in the most prestigious HCI conferences and journals and has won several best papers and honorable mentions. She holds a Ph.D. and M.S. in Human-Computer Interaction from Carnegie Mellon University, an M.S. in Computer Science from the Oregon Health and Science University, and a B.S. in Computer Engineering from North Carolina State University. She was also a software engineer at Intel Corporation for seven years.
Tawanna has demonstrated commitment to supporting underrepresented people and communities. She is a Digital Inclusion Policy fellow mentor for UM Poverty Solutions and is a member of the Advisory Committee for the University of Michigan Center for Academic Innovation. The nature of her research alone enables her to work with a diverse set of passionate students and community members who have been attracted to her research. She directs the Social Innovations Group and has mentored numerous, master's, undergraduate, and high school students, and postdocs, over half who are women and underrepresented minorities. She actively participates in programs that benefit underrepresented groups and engages in community-based participatory research.
Michel A. Kinsy
Michel A. Kinsy is an Assistant Professor in the Department of Electrical and Computer Engineering at Boston University (BU), where he
directs the Adaptive and Secure Computing Systems (ASCS) Laboratory. He focuses his research on computer architecture, hardware-level security, and efficient hardware design and implementation of post-quantum cryptography systems. He has published over 60 research articles, many in top-tier conferences and journals, including the International Symposium on Computer Architecture, International Symposium on High-Performance Computer Architecture, IEEE International Symposium on Hardware Oriented Security and Trust, IEEE Transactions on Computer-Aided Design of Integrated Circuits and Systems, and IEEE Transactions on Computers.
Michel is an MIT Presidential Fellow. He earned his Ph.D. in Electrical Engineering and Computer Science in 2013 from the Massachusetts Institute of Technology (MIT). In his doctoral work, he introduced some of the first algorithms and innovative hardware techniques to emulate and control large-scale power systems at the microsecond resolution. The work inspired further research by the MIT spin-off Typhoon HIL, Inc. Before joining the BU faculty, Michel was an assistant professor in the Department of Computer and Information Systems at the University of Oregon, where he directed the Computer Architecture and Embedded Systems (CAES) Laboratory. From 2013 to 2014, he was a Member of the Technical Staff at the MIT Lincoln Laboratory, where he led the Advanced Computer Architecture Concepts sub-group tasked with exploring future secure computing architectures in critical DoD systems.
Michel is a mentor who inculcates a culture of embracing diversity, intellectual honesty, excellence in research, social responsibility, and personal integrity among the mentees in his research laboratory – three of them are underrepresented doctoral students. His outreach efforts include creating the University of the Virgin Islands Summer Cybersecurity Program; organizing ACM Richard Tapia Celebration of Diversity in Computing Conference workshops on open-source computer architecture design space exploration and post-quantum cryptosystem design; introducing a computer science module into the Oregon Young Scholars Program for preparing historically underserved students for college, and the University of Oregon African-American Rites of Passage Program.
This year, recognition was warranted beyond the award winners and two nominees are receiving the Distinction of Honorable Mention.
Cindy Rubio González of the University of California Davis is recognized by both the Anita Borg Early Career Award and the Skip Ellis Early Career Award committees for a joint Honorable Mention.
CRA-WP is proud to celebrate the growing representation in computing research by highlighting both Rubio González for her significant contributions and outreach in the field. It is encouraging to see the growth in the excellent computing researchers from diverse backgrounds committed to scholarly excellence and equal opportunity.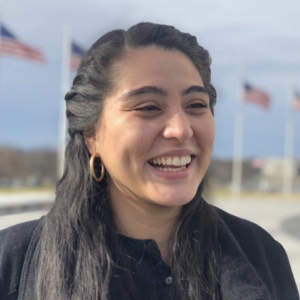 Alejandra Guzmán
Program Associate