Note to Department Chairs:
Taulbee Survey 2012-13
Coming Soon!
If you have a new chair, please advise membership [at] cra.org to ensure the survey is properly addressed.
Honors:
Congratulations to Peter Lee, former CRA Board Chair, on his new position at Microsoft Research. Lee is now Corporate Vice President and head of Microsoft Research USA. Lee is also a former chair of the Government Affairs Committee, a past member of the CCC Council, and the PI of the first CIFellows program.

CRA also congratulates Jeanette Wing, former CRA Board Member, on her new position as Vice President, Head of Microsoft Research International. Wing received the CRA Distinguished Service Award in 2011.

To thank him for his service as Board Chair, Lee received a Washington
Capitals jersey from CRA. Lee is also a Pittsburgh Penguins fan.
Jeanette Wing, Microsoft Research
The Computing Community Consortium (CCC) recognized Ed Lazowska and Lance Fortnow for their service to the CCC at its Council meeting in July.
Founding Chair of the Computing Community Consortium (2007-13), Ed Lazowska received a model steamroller in recognition for his service.

Lance Fortnow received a plaque for his contributions as a member on the CCC Council (2010-2013), where he led the CCC Visioning subcommittee.

"If you're not part of the steamroller, you're part of the road" – Ed Lazowska
Lance Fortnow, Georgia Institute of Technology with Susan Graham,
Chair of the Computing Community Consortium.
Tisdale Fellows Lunch
On July 18, CRA hosted a luncheon for the 2013 Eben Tisdale Public Policy Fellows. The Fellowship has two components: a full-time 8 week public policy internship with a high-tech company, firm or trade association, and weekly issues seminar lunches hosted by Tisdale sponsors. CRA has the pleasure of hosting Fellow Andrei Santalo.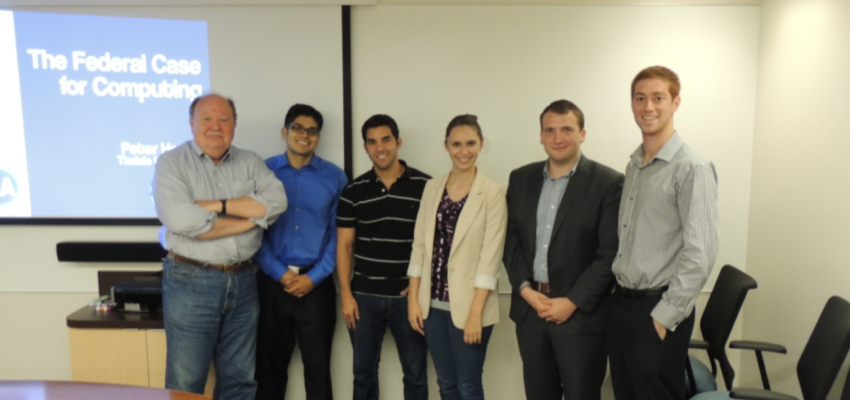 Left to Right: Joe Tasker, Isaac Lara, Andrei Santalo, Alison Goodrum, Bobby Jenkins, Scott Garfing. Not pictured: William Ryan, Zoe Stanley-Lockman
CRA Staff Update
CRA welcomes its newest staff member, Dr. Jessica Cundiff, Research Analyst for the Center for Evaluating the Research Pipeline (CERP). Jessica is passionate about improving the experiences, recruitment, and retention of members of groups that have been historically underrepresented in highly valued and high-paying fields such as computing. She believes that it is important for computing to thicken the pipeline for women and other underrepresented groups in order to take advantage of the talent, innovation, and diverse perspectives that will move the field forward. Prior to joining CERP, Jessica earned her Ph.D. in Social Psychology and Women's Studies at Penn State University where she conducted research examining subtle forms of gender and racial bias in STEM fields. She is eager to provide research and evaluation services that will help inform diversity initiatives in computing, and she looks forward to helping CERP become a national resource for the computing community