The Computing Research Association recently hired two new program associates – Catherine Gill and Haley Griffin for the Computing Community Consortium (CCC) subcommittee.
In this role, Catherine Gill will assist CCC staff with administrative tasks and logistical matters, such as organizing and coordinating workshops and research efforts. Most recently, she worked as an office manager for Hanover Research organized employee events and office communications.
"CCC eagerly welcomes Catherine (Cat) Gill as a new Program Associate. Her organizational experience, including communications and logistics, will help amplify the efforts of CCC leader and volunteers to further our goals of catalyzing high-impact computing research within the community." – Dan Lopresti, CCC Vice Chair
Originally from Boulder, Colorado, Cat has a passion for learning any and all things history, and spending time in the Colorado wilderness. She received her Bachelor's degree in Philosophy from Colorado College, and hopes to attend law school in the future. In her free time, Cat loves to play video games, go on hikes, and read as many books as possible.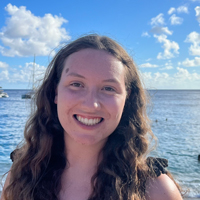 Haley Griffin will support the CCC mission by facilitating workshops, completing administrative tasks, and assisting with communications deliverables.
"CCC is delighted to have Haley Griffin join us as a Program Associate. Her energy, her writing skills, and her work experience in nonprofit organizations will be assets to CCC in its mission to catalyze the computing research community and enable the pursuit of innovative, high-impact research." -Liz Bradley, CCC Chair
Previously she worked for AmeriCorps as a Literacy Coordinator where she helped students at under-resourced schools with their reading comprehension and literary skills. Haley graduated from Miami University with a bachelor's degree in professional writing and minors in Spanish and global perspectives on sustainability. She has experience working with non-profit organizations on initiatives like obtaining grants for watershed management and designing project proposals for fundraisers. In her free time Haley likes to take walks, spend time with friends and family, and travel.