The New York Times yesterday had a nice piece on the declining interest of women in computer science, the impact on the field, and some efforts to reverse the trend. Here's a snippet:
CAMBRIDGE, Mass. — For decades, undergraduate women have been moving in ever greater numbers into science and engineering departments at American universities. Yet even as they approach or exceed enrollment parity in mathematics, biology and other fields, there is one area in which their presence relative to men is static or even shrinking: computer science.
Women received about 38 percent of the computer science bachelor's degrees awarded in the United States in 1985, the peak year, but in 2003, the figure was only about 28 percent, according to the National Science Foundation.
At universities that also offer graduate degrees in computer science, only 17 percent of the field's bachelor's degrees in the 2003-4 academic year went to women, according to the Taulbee Survey, conducted annually by an organization for computer science research. [That's CRA's survey, by the way…]
Since then, many in the field say, the situation has worsened. They say computing is the only realm of science or technology in which women are consistently giving ground. They also worry that the number of women is dropping in graduate programs and in industry.
They are concerned about this trend, they say, not just because they want to see young women share the field's challenges and rewards, but also because they regard the relative absence of women as a troubling indicator for American computer science generally — and for the economic competitiveness that depends on it.
This is perhaps the trend that's most disturbing to those in the computing community who care about the issue: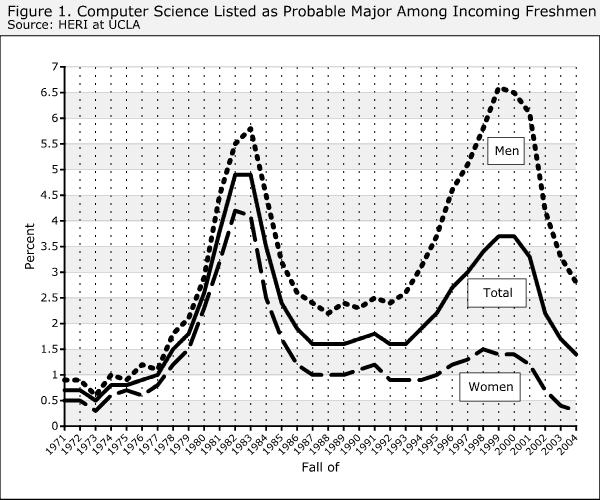 Basically, the interest of women in computing has never been lower. In a previous posting, we've described some of the ways the community is trying to address the problem, including hiring an "Image Strategist" to focus on improving the image of computing. (Jill K. Ross is that new strategist and she'll have an update on the efforts of the "Image of Computing National Task Force" in May at a meeting of the National Center for Women & Information Technology in Boulder.) Efforts like those described in the article are also crucially important. The National Science Foundation supports many such efforts in computing under its Broadening Participation in Computing program in the Computer and Information Science and Engineering directorate. (And we've mentioned recently that pending legislation in the House would help programs with the goals of increasing the participation of underrepresented groups in computing such as those supported by BPC (or science and engineering generally) have an easier time getting renewed funding from NSF, as long as they are deemed to be effective.)
We'll keep you informed on the progress of these efforts — both programmatic and legislative — in the coming weeks. In the meantime, CRA's Jay Vegso has posted links to some further discussion of the issues cited in the Times piece over at the CRA Bulletin. The Bulletin is a good one-stop shop to lots of data about the state of IT and the IT workforce and pipeline.
Finally, we've got a lot of additional information on the state of the IT workforce over at our IT Workforce page, including: