Professional
Posted 3 weeks ago
Expires on: December 31, 2022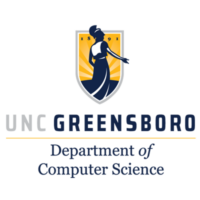 Website UNC Greensboro
Computer Science
Assistant Professor of Computer Science
Position #998422
UNCG is a Minority Serving Institution, with an undergraduate population of 56% ethnic minority students. UNCG and the Computer Science Department foster an environment of collaboration across departments and schools and support community-engaged research. UNCG is proud of the diversity of its student body and we seek to attract an equally diverse applicant pool for this position. UNCG is located in a metropolitan area of more than 1.7 million in the Piedmont region of North Carolina, between the Atlantic Ocean and the Appalachian mountains. UNCG is an EOE/Affirmative Action/M/F/D/V employer and are strongly committed to increasing faculty diversity. Additionally, UNC Greensboro is consistently recognized nationally among the top universities for academic excellence and value, with noted strengths in health and wellness, visual and performing arts, nursing, education, and more. For additional information, please visit uncg.edu and follow UNCG on Facebook, Twitter, and Instagram.
The Department of Computer Science at UNCG is a thriving department with an established, ABET-accredited B.S. degree program and an active M.S. degree program, and a new Ph.D. program to be established in Fall 2022. The department is experiencing rapid enrollment growth in recent years. For more information on the Computer Science Department, visit the Department's web page at http://compsci.uncg.edu/.
We are looking for candidates who show exceptional promise in both research and teaching. Preferred research areas are those that build upon our existing areas of strength, which include algorithms, artificial intelligence, data analytics, databases and data mining, foundations of computer science, human-computer interaction, image processing, machine learning, networking, security, and virtual reality, but applicants in other research areas are also encouraged to apply.
We are particularly interested in candidates who work in data science and interdisciplinary research.
Please note: While this is a tenure-track position, an appointment made effective January 1, 2023, will be as visiting assistant professor (pre-tenure-track) for the spring semester, with the tenure-track appointment commencing effective August 1, 2023. The visiting appointment is necessary to effectuate a normal tenure clock.
Candidate must hold or anticipate a Ph.D in Computer Science by January 1, 2023.
Applicants are asked to provide the names, email addresses, and phone numbers of three contacts to provide Letters of Recommendation in the References section of the electronic application. These contacts will be solicited by the SpartanTalent system via email and asked to provide a confidential Letter of Recommendation on behalf of the applicant. This will occur when a candidate is being considered for an interview.
AA/EEO: UNCG is an equal opportunity and affirmative action employer. All qualified applicants will receive consideration for employment without regard to race, color, national origin, religion, sex, gender identity, age, sexual orientation, genetic information, status as an individual with a disability, or status as a protected veteran.
Individuals with disabilities requiring disability-related accommodations in the application and interview process, please email us at askeeo@uncg.edu. Final candidates are subject to criminal & sex offender background checks. Some vacancies also require credit or motor vehicle checks. If highest degree is from an institution outside of the U.S., final candidates are required to have their degree verified prior to start date.
UNCG participates in E-Verify. Federal law requires all employers to verify the identity and employment eligibility of all persons hired to work in the United States.
To apply visit https://spartantalent.uncg.edu/ and click on "Faculty."