Best Practices on using the Cloud for Computing Research Workshop
---
March 21-22, 2022
CRA Office
1828 L Street Northwest, Downtown, Washington, DC, USA
---
---
Event Contact
Helen Wright
hwright@cra.org

---
Event Type
---
Event Category
Overview
This workshop was based off of a very successful September 2021 roundtable event that brought together over 50 members of the community. 
It continued the conversation spurred from the discussion topics below:
Use of cloud computing to broaden the set of institutions that can gain access to large-scale resources for computing research

Fostering research collaborations across industry, academia, and government (also enabled by data sharing and open-source software)

Preparing students to be consumers of cloud computing in their future careers

Enabling computing researchers to be creators and early adopters of leading-edge cloud technologies, while looking under the hood and customizing the systems being used

Demystifying and capping costs incurred when using the cloud for research.
It is clear that the future of computing research is in the cloud, but getting there and sharing its potential with students and the computing research community broadly is challenging.
Agenda
March 21, 2022 (Monday)
12:00 PM
Lunch for in-person attendees
01:00 PM
Welcome and Introductions
01:15 PM
Keynote from National Science Foundation

"Advancing a National Discovery Cloud via NSF-funded Research Resources"

Margaret Martonosi, CISE AD

Gurdip Singh, CISE/CNS Director

Manish Parashar, OAC Office Director

02:15 PM
Session 1 Talks

"Cloud for Computing Research and the Computing Community Consortium (CCC)"

Daniel Lopresti, Lehigh University

Ian Foster,

Argonne National Laboratory

03:05 PM
Break
03:30 PM
Introduction of Breakout Topics
04:00 PM
Discussion + Charge to Breakout Groups
05:30 PM
Adjourn + Brainstorming Continues via Slack
06:00 PM
Dinner for In-person Attendees
March 22, 2022 (Tuesday)
09:00 AM
Breakout groups work on their own
11:00 AM
Session 2 Talks

"Cloud Shoes for the CS Research Cobblers' Children"

David Culler, Google

Mike Dahlin, Google

"Clouds for Research—Blue Skies or Bust?"

Raghu Ramakrishnan, Microsoft

11:50 AM
Lunch for In-person Attendees
01:00 PM
Breakout Reports
02:30 PM
Break
03:00 PM
Next Steps / Plans for Workshop Report
04:30 PM
Adjourn
Speakers
David Culler joined Google after 31 years at the University of California Berkeley pioneering extreme networked systems, from laying the foundations of clusters, Internet services and planetary scale systems to making low power embedded wireless sensor networks a reality. His work, represented in over 300 publications, 10 test-of-time awards, numerous best papers, 34 patents and the seminal textbook on parallel computer architecture, is reflected in his role in the National Academy of Engineering, where he serves on the Computer Science and Telecommunications Board and on several national studies. His academic career is punctuated with industrial phases, including Sun Microsystems, founding director of Intel Research Berkeley, and co-founding Arch Rock, now part of CISCO, and administrative roles, including Chair of EECS and founding Dean of the Berkeley Division of Data Sciences. His recent work brings network systems to the building environment to address sustainability and resilience. David is an ACM Fellow, IEEE Fellow, recipient of the SIGMOBILE Outstanding Contribution Award and the Okawa Prize.
---
Ian Foster is Distinguished Fellow and director of the Data Science and Learning Division at Argonne National Laboratory. He is also the Arthur Holly Compton Distinguished Service Professor of Computer Science at the University of Chicago. Ian received a BSc (Hons I) degree from the University of Canterbury, New Zealand, and a PhD from Imperial College, United Kingdom, both in computer science. His research deals with distributed, parallel, and data-intensive computing technologies, and innovative applications of those technologies to scientific problems in such domains as climate change and biomedicine. His Globus software is widely used in national and international cyberinfrastructures. Foster is a fellow of the American Association for the Advancement of Science, the Association for Computing Machinery, and the British Computer Society. His awards include the Global Information Infrastructure Next Generation award, the British Computer Society's Lovelace Medal, the IEEE's Kanai award, and honorary doctorates from the University of Canterbury, New Zealand, and the Mexican Center for Research and Advanced Studies of the National Polytechnic Institute (CINVESTAV). He was a co-founder of Univa, Inc., a company established to deliver grid and cloud computing solutions.
---
Daniel Lopresti received his bachelor's degree from Dartmouth in 1982 and his Ph.D. in computer science from Princeton in 1987. In 2003, Dr. Lopresti joined the Department of Computer Science and Engineering at Lehigh where his research examines fundamental algorithmic and systems-related questions in pattern recognition, bioinformatics, and security. On July 1, 2009, he became Chair of the CSE Department and occupied the position for 10 years through several reappointments ending on June 30, 2019. Beginning on July 1, 2014, he served as Interim Dean of the P. C. Rossin College of Engineering and Applied Science for a year. On July 1, 2015, he was named Director of the Data X strategic initiative, a role he held until June 2020. Dr. Lopresti currently serves as the President of the International Association for Pattern Recognition (IAPR). He is also currently the Vice Chair of the Computing Research Association's Computing Community Consortium (CCC). He is an Editor-in-Chief of the International Journal of Document Analysis and Recognition (IJDAR), and as an Area Editor for Computer Vision and Image Understanding (CVIU). He has co-authored over 150 peer-reviewed publications, and is a named co-inventor on 24 U.S. patents. Over his career, Dr. Lopresti has mentored more than 70 undergraduate and graduate students and postdocs, and personally facilitated professional networking connections for hundreds more.
---
Margaret Martonosi is the US National Science Foundation's (NSF) Assistant Director for Computer and information Science and Engineering (CISE). With an annual budget of more than $1B, the CISE directorate at NSF has the mission to uphold the Nation's leadership in scientific discovery and engineering innovation through its support of fundamental research and education in computer and information science and engineering as well as transformative advances in research cyberinfrastructure. While at NSF, Dr. Martonosi is on leave from Princeton University where she is the Hugh Trumbull Adams '35 Professor of Computer Science. Dr. Martonosi's research interests are in computer architecture and hardware-software interface issues in both classical and quantum computing systems. Dr. Martonosi is a member of the National Academy of Engineering and the American Academy of Arts and Sciences. She is a Fellow of the Association for Computing Machinery (ACM) and the Institute of Electrical and Electronics Engineers (IEEE).
---
Manish Parashar is Office Director of the Office of Advanced Cyberinfrastructure at the National Science Foundation (NSF) where he oversees investments in national cyberinfrastructure. He also serves as Co-Chair of the National Science and Technology Council's Subcommittee on the Future Advanced Computing Ecosystem and the National Artificial Intelligence Research Resource Task Force. Manish is on assignment to NSF from the University of Utah where he is the Director of the Scientific Computing and Imaging Institute, Chair in Computational Science and Engineering, and Professor in the School of Computing. Manish is Fellow of AAAS, ACM, and IEEE. For more information, please visit http://manishparashar.org.
---
Raghu Ramakrishnan is CTO for Data, and a Technical Fellow at Microsoft. Previously, he was a professsor at University of Wisconsin-Madison, where he wrote the widely used text "Database Management Systems" with Johannes Gehrke, and Chief Scientist at Yahoo! He has received the Innovation Award from both ACM SIGMOD and SIGKDD, multiple 10-year paper awards, and the ACM SIGMOD Contributions Award.
---
Gurdip Singh is the Division Director for Computer and Network Systems in the CISE Directorate at National Science Foundation. He is currently on leave from Syracuse University where he was the Associate Dean for Research and Graduate Programs of the College of Engineering and Computer Science. He previously served as Program Director in the Division of Computer and Network Systems in the CISE Directorate at NSF from July 2014 to August 2016. From 2009 and 2014, he was the Head of Computer Science Department at Kansas State University, and Graduate Program Director from 2006 to 2009. Dr. Singh earned his MS and PhD degrees in Computer Science from SUNY, Stony Brook in 1989 and 1991 respectively, and his B. Tech degree in Computer Science and Engineering from IIT Delhi in 1986. His research and teaching interests include real-time embedded systems, sensor networks, network protocols and distributed computing.
Organizers
Vivek Sarkar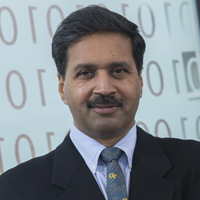 Co-Organizer
Georgia Tech
Fatma Özcan
Co-Organizer
Google
Virtual Roundtable on Corporate Responsibility and Computing Research