Inaugural CRA-Industry Meeting at Snowbird
---
July 19, 2022
Primrose A & B, Cliff Lodge, Snowbird
9320 Cliff Lodge Dr, Snowbird, UT 84092
---
---
Event Contact
Helen Wright
hwright@cra.org

---
Event Type
---
Event Category
Overview
Computing Research Association-Industry (CRA-I), the Computing Research Association's newest committee, held their inaugural meeting at Snowbird on July 19th, 2022. The meeting brought together computing researchers from academia, industry, and government to talk about bridging partnerships and areas of future collaboration.
The breakout session, addressed the following questions.
CRA-Industry within Itself 
What resources should CRA-Industry create to share among the industry computing research community?  

What should CRA-Industry's top priorities be in making connections to potential industry partners and what approaches would work best to engage them?

 

CRA-Industry has a goal of reaching out to all companies including companies that want to start engaging in computing research. What is the most important thing CRA-Industry can do for such companies and what is the best way to work with them?

 

What are the most effective ways to include the industry research community in participating in the organization and execution of CRA-Industry activities? 
CRA-Industry and CRA 
How should CRA-Industry interact with other CRA committees (CCC, CRA-WP, Government Affairs, CERP, CRA-E, etc.)?

CRA's Strategic Plan calls Social Responsibility as a topic of interest going forward. What are ways that CRA-Industry can work in this space? 
CRA-Industry and the Community
What is the most important computing research technical area that CRA-Industry should convene a discussion about and why?

What is the best way for CRA-Industry to work with the academic members of CRA, which are largely computing research departments?

What external organizations that have missions that overlap with CRA-Industry should we regularly interact with and what are some suggestions for collaborations we might have?
Agenda
July 19, 2022 (Tuesday)
12:00 PM
LUNCH
01:00 PM
Introduction to CRA-Industry

Vivek Sarkar, Georgia Tech

Ben Zorn, Microsoft

01:15 PM
Characterizing the Academic and Industry Innovation Ecosystem

Beth Mynatt, Northeastern University


01:40 PM
Language models in practice: measure what matters

Fernando Pereira, Google

02:05 PM
Think Slow, but Innovate Fast: How Industry Can Teach Academia About Problems That Matter

Greg Hager, Amazon

02:30 PM
Advancing Technology, Innovation, and Partnerships

Erwin Gianchandani, NSF 

03:00 PM
BREAK
03:15 PM
Breakout Session
04:00 PM
Report Backs
04:15 PM
Final Remarks

Tracy Camp, CRA Executive Director

04:30 PM
ADJOURN
Speakers
Erwin Gianchandani
Dr. Erwin Gianchandani is the National Science Foundation's (NSF) Assistant Director for Translation, Innovation, and Partnerships, reporting to the NSF Director. For six years, he was the NSF Deputy Assistant Director for Computer and Information Science and Engineering (CISE), twice serving as NSF Acting Assistant Director for CISE. In this role, he contributed to the leadership and management of NSF's CISE directorate, including formulation and implementation of the directorate's $1 billion annual budget, strategic and human capital planning, and oversight of day-to-day operations. He has led the development and launch of several new NSF investments, including Smart & Connected Communities, Platforms for Advanced Wireless Research, the Civic Innovation Challenge, and the National Artificial Intelligence Research Institutes, often in collaboration with public and private partners. Before joining NSF in 2012, Dr. Gianchandani was the inaugural Director of the Computing Community Consortium, providing leadership to the computing research community in identifying and pursuing audacious, high-impact research directions. He has published and presented at international conferences on computational systems biology. He holds a B.S. in computer science and M.S. and Ph.D. in biomedical engineering from the University of Virginia.
Greg Hager
Gregory D. Hager is a Director of Applied Science for Amazon Physical Stores while on leave from his position as the Mandell Bellmore Professor of Computer Science at Johns Hopkins University. Hager is known for his research on collaborative and vision-based robotics, time-series analysis of image data, and medical applications of image analysis and robotics. He has published more than 500 articles and books on these topics. Hager is also the founding director of the Johns Hopkins Malone Center for Engineering in Healthcare, an interdisciplinary research center aimed at developing innovative healthcare technology and systems. He is a Fellow of the ACM, IEEE, AAAS, the MICCAI Society, and AIBME for his scientific contributions to computer vision, robotics, and computer-integrated healthcare. He is currently co-chair of the CRA Government Affairs Committee and has previously served on the CRA Board and as CCC Chair.
Beth Mynatt

Dr. Elizabeth Mynatt is the Dean of Khoury College of Computer Sciences. She joined Northeastern University in January 2022 after a 23-year career at Georgia Institute of Technology (Georgia Tech), where she most recently served as Regents' and Distinguished Professor in the College of Computing and executive director of the Institute of People and Technology. Mynatt is an internationally recognized expert in the areas of ubiquitous computing and assistive technologies. Her research contributes to ongoing advances in personal health informatics, computer-supported collaborative work, and human-centered computing. Mynatt earned her Bachelor of Science summa cum laude in computer science from North Carolina State University and her Master of Science and Ph.D. in computer science from Georgia Tech. Prior to joining the Georgia Tech faculty in 1998, Mynatt was a member of the research staff at Xerox PARC.
Fernando Pereira

Fernando Pereira is VP at Google, where he leads research and development in natural language understanding and machine learning. His previous positions include chair of the Computer and Information Science department of the University of Pennsylvania, head of the Machine Learning and Information Retrieval department at AT&T Labs, and research and management positions at SRI International. He received a Ph.D. in Artificial Intelligence from the University of Edinburgh in 1982, and has over 120 research publications on computational linguistics, machine learning, bioinformatics, speech recognition, and logic programming, as well as several patents. He is a fellow of AAAI, ACM, and ACL; member of the American Philosophical Society, of the American Academy of Arts and Sciences , and of the National Academy of Engineering; and past president of the Association for Computational Linguistics.
Organizers
Vivek Sarkar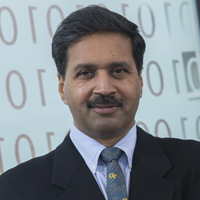 Co-Organizer
Georgia Tech
Ben Zorn
Co-Organizer
Microsoft
Virtual Roundtable on Best Practices on using the Cloud for Computing Resea...
Building Stronger Regional Academia-Industry-Government Computing Research ...