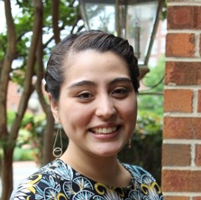 CRA has recently hired Alejandra Guzman as a program associate. In this role, Alejandra supports CRA and CRA-W program activities with meeting planning, workshops, outreach activities, and committee support.
Alejandra graduated from Brown University in 2015 with an Education Studies degree. During her undergraduate career, she was deeply involved with student organizations that supported underrepresented student communities such as first-gen, low income, etc.
She has continued that work in her professional career as she supports disenfranchised students, particularly in STEM fields. Before joining CRA, Alejandra promoted computer science learning through Code Success, a Google-sponsored program at the National Society of Black Engineers (NSBE), which focused on enhancing NSBE members' CS technical skills as well as professional skills to ensure they were job ready upon graduation. In her free time, Alejandra enjoys spending time with her family, reading, running and playing with her cat.