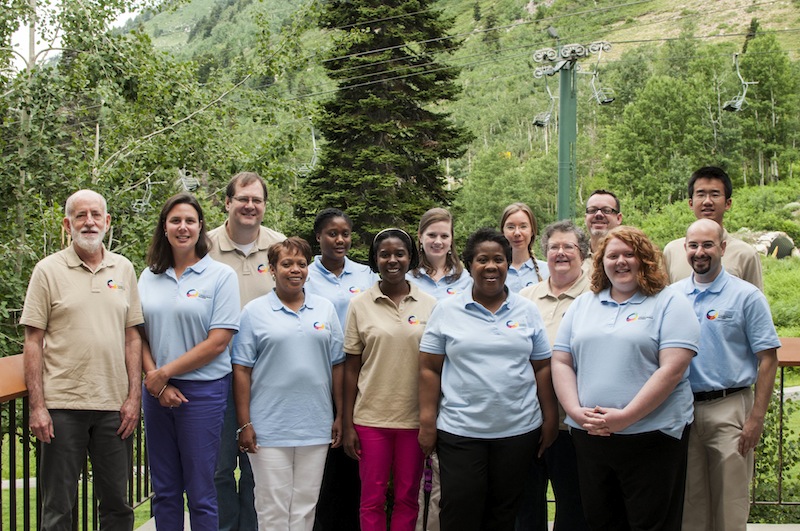 Click on a staff members photo below to view their profile.
Andrew Bernat
Executive Director
abernat [at] cra.org
202-266-2949
Dr. Andrew Bernat
Executive Director
---
Dr. Andrew Bernat was a founding member and chair of the Computer Science Department at the University of Texas at El Paso (spending 20 years there), NSF Program Director and now the Executive Director of the CRA.
He has some 70 refereed publications, roughly equally in disciplinary research and in computing education, a large number of presentations and in excess of $25 million in externally funded activities. In recognition of "… his success in creating arguably the strongest computer science department at a minority-serving institution …", the Computing Research Association honored him with the 1997 A. Nico Habermann Award. Outside interests include steam locomotives, narrow gauge railroads, SCUBA and his wonderful grandchildren.
Betsy Bizot
Director of Statistics and Evaluation
bizot [at] cra.org
202-266-2943
Betsy Bizot
Director of Statistics and Evaluation
---
Betsy started at CRA in 2004. She has two main responsibilities there: the annual CRA Taulbee Survey of Computer Science, Computer Engineering, and Information departments; and evaluation of programs to encourage members of underrepresented groups toward research careers in computing.
She received her B.S. in Computer Science from Virginia Tech in 1978. While working in software development, she earned an MBA from Tulane University in 1984. The combination of coursework and on-the-job experience led her to an interest in successful technical teamwork and leadership, and to a Ph.D. in Industrial/Organizational Psychology from the University of Tulsa in 1988. She did some statistical software development, then worked for 14 years for Career Vision, a not-for-profit in the Chicago suburbs, conducting research and product development related to career choice and career satisfaction. She is happy to bring the social science research and computing branches of her professional career together at CRA.
Betsy is interested in underrepresented groups in science and engineering, career paths in research (especially computing research), and in making information available to people in forms that are useful for decision making.
Melissa Borts
Program Associate,
CRA-W
mborts [at] cra.org
202-266-2946
Melissa Borts
Program Associate, Women in Computing Research (CRA-W)
---
As a Program Associate at Computing Research Association, Melissa is responsible for assisting the Director of Programs in planning and organizing various activities and events for the Women in Computing Research program (CRA-W).
Most recently, Melissa has completed her Bachelor's of Science in Public Health and minor in Hearing and Speech Science at the University of Maryland. Melissa is focused on building her professional career and expanding her knowledge of the computer science field while working at Computing Research Association.
In her spare time, Melissa has a passion for adventure and travel, and has recently travelled to Vietnam, Cambodia, and Shanghai.
Sandra Corbett
Program Associate
scorbett [at] cra.org
202-266-2938
Sandra Corbett
Program Associate
---
Sandra joined CRA in 2011. As part of the CRA team, her responsibilities involve designing and developing all of the internal databases for CRA, processing all account payables for the organization and working with the Director of Programs on CRA-W programs, specifically the CREU and DREU programs.
Sandra holds a Bachelor of Science degree in Information Systems from Strayer University. She earned her Master of Science degree in Database Administration (2011), and Master of Business Administration degree (2012) from the University of Maryland University College.
Her outside interests involve reading, learning about database development and big data analytics- the process of examining large amounts of data of a variety of types to uncover hidden patterns, unknown correlations and other useful information.
Ann Drobnis
Director, CCC
adrobnis [at] cra.org
202-266-2936
Ann Drobnis
Director, CCC
---
Dr. Ann Drobnis is Director of the Computing Community Consortium. Most recently, she was an Albert Einstein Distinguished Educator Fellow at the National Science Foundation working on education and workforce development issues for the CISE Directorate. Ann spent most of her time working on the CS10K Project, whose goal is to get academically rigorous computer science courses into 10,000 high schools by 2016. This is a much needed effort to create the research and workforce pipeline that our field so desperately needs. Prior to her time at NSF, she taught high school computer science and math at Thomas Jefferson High School for Science and Technology. She has a passion for broadening participation in computing, as her doctoral research was focused on ways to bring more females into the field.
Khari Douglas
Program Associate, CCC
kdouglas [at] cra.org
202-234-2111
Khari Douglas
Program Associate, CCC
---
As a Program Associate at CRA, Khari Douglas interacts with members of the research community and policy makers to organize meetings, workshops, and outreach activities.
Khari is a recent graduate of Johns Hopkins University with majors in International Studies and Economics. Khari is focused on building his professional career and learning more about policy making and the computer science industry.
Peter Harsha
Director, Government Affairs
harsha [at] cra.org
202-266-4335
Peter Harsha
Director, Government Affairs
---
Peter Harsha is the Director of Government Affairs for the Computing Research Association, an organization representing 200 North American academic departments of computer science, computer engineering and related fields; 26 industrial research labs; and 6 affiliated professional societies. In his position, Peter works to help CRA influence computing research policy by improving public and policy maker understanding of the nature of research, and by increasing the computing community's awareness of and participation in policy issues. Prior to joining CRA in October 2001, Peter spent six years working for Congress, beginning as a member of the personal staff of Congressman Nick Smith of Michigan. In the 106th and 107th Congresses, Peter served as a member of the professional staff of the House Science Committee as Chairman Smith's designee on the Subcommittee on Research, working on a portfolio of issues that included oversight of the National Science Foundation, Information Technology, the U.S. Fire Administration, and the National Earthquake Hazards Reduction Program. Peter is a graduate of Hillsdale College in Hillsdale, Michigan.
Sabrina Jacob
Administrator
sjacob [at] cra.org
202-266-2949
Sabrina Jacob
Administrator
---
Sabrina Jacob has been with CRA since August 2007 as the Administrator. One of her primary duties is overseeing/managing the ads that appear on the CRA website as well as in the electronic CRN magazine. She also is responsible for managing the membership database which consists over 350 academic departments, labs, and professional societies and is the liaison between the department chairs, deans, directors, and presidents. Sabrina did her undergraduate work in Psychology at UMUC.
Prior to joining CRA, Sabrina worked many years with different non-profit organizations both nationally as well as internationally. She also spent a number of years working at NBC, PBS, and C-SPAN as an engineer, producer and a director.
In her spare time, Sabrina loves to read between juggling her schedule as a soccer mom for her son Joshua and maintaining his very busy academic schedule. She also has a passion for working with young women and children.
Brian Mosley
Policy Analyst
bmosley [at] cra.org
202-266-2944
Brian Mosley
Policy Analyst
---
Brian is the Policy Analyst for CRA, representing the Association before Congress, Executive Branch agencies, and the computing & scientific community in Washington. He is enthusiastic about the governmental process and wants to help both researchers and elected representatives get the most out of their democracy. Brian has over seven years experience in government affairs and has worked in the fields of technology & innovation policy, science and energy research, and STEM education. Prior to arriving at CRA, he worked in the Washington Office of the American Physical Society and interned for Congressman Steny Hoyer of Maryland while in college. In his spare time, Brian is an accomplished amateur photographer, with multiple photographs having been displayed in juried art shows. Brian is a graduate of St. Mary's College of Maryland with a B.A. in History and Political Science.
Erik Russell
Director of Programs
erik [at] cra.org
202-266-2941
Erik Russell
Director of Programs
---
As Director of Programs at CRA, Erik is involved with a broad range of programs focusing on human resources, community-building, and connecting CRA with the other organizations advancing computer science and engineering. He supports several CRA committees such as the Committee on the Status of Women in Computing Research (CRA-W), the Coalition to Diversify Computing (CDC), the CRA Deans Group, and others.
Before joining CRA, Erik worked to advance computer science education through his service as an Albert Einstein Distinguished Educator Fellow within the Directorate for Computer & Information Science & Engineering at the National Science Foundation. As part of the Education and Workforce Program at NSF, which included initiatives such as Broadening Participation in Computing, and the Computing Education for the 21st Century, Erik has been actively working to engage and retain students from underrepresented groups in computer science.
Shar Steed
Communications Specialist
shar [at] cra.org
202-266-2939
Shar Steed
Communications Specialist
---
As a Communications Specialist at CRA, Shar Steed manages strategic communications for the organization and Computing Research News.
Previously at the American Association for the Advancement of Science (AAAS), she managed integrated marketing campaigns to enhance national awareness of the AAAS Science & Technology Policy Fellowships program. Shar was a Marketing Communications Assistant at National 4-H Council and has experience in public relations with private firms, and academic institutions.
She holds a bachelors' degree in public relations from the University of South Carolina and a master's degree in integrated marketing communications from Florida State University.
Jane Stout
Director, CERP
jane [at] cra.org
202-266-2937
Jane Stout
Director, CERP
---
Dr. Jane Stout leads evaluation and social science research for the computing community. She and her team at CERP focus their research specifically on understanding how best to promote success and persistence among underrepresented groups in computing.
Jane obtained her Ph.D. in Social Psychology at The University of Massachusetts Amherst with a concentration in quantitative methods in 2011. She did postdoctoral training at The University of Colorado Boulder before becoming the Director of CERP in 2013.
Jane enjoys playing the violin, daily yoga practice (of the Iyengar tradition) and travel.
Curriculum Vitae [PDF]
Burçin Tamer
Research Scientist, CERP
burcin [at] cra.org
202-266-2935
Burçin Tamer
Quantitative Social Scientist, CERP
---
Burçin joined CRA as a Quantitative Social Scientist for the Center for Evaluating the Research Pipeline (CERP) in May 2015. She collaborates with the CERP team to evaluate programs that aim to promote diversity in computing related professions.
She completed her doctoral training in Political Science and Women's Studies in 2015 at The Pennsylvania State University, where she also received her Master of Arts degree in Political Science. Prior to attending Penn State, she received her Bachelor of Arts degrees in Business Administration and International Relations from Koç University in Istanbul, Turkey.
Whenever she gets the chance, Burçin loves looking up into the night sky and admire the beauty and complexity of the universe.
Heather Wright
Research Associate, CERP
heather [at] cra.org
202-266-2945
Heather Wright
Research Associate, CERP
---
Heather joined CRA in 2013 and is a Research Associate for the Center for Evaluating the Research Pipeline (CERP). Heather acts as a liaison and assistant evaluator for projects and programs within the evaluation scope of CERP. Heather is passionate for social justice among all groups of individuals— especially those who are underrepresented in computer science and other closely related fields.
Heather graduated with her Bachelors of Science in Sociology from Radford University in 2013 with minors in Technical & Business Writing and Women's Studies. Outside of CRA, she enjoys the art of music, cooking, and leisure.
Helen Wright
Senior Program Associate, CCC
hwright [at] cra.org
202-266-2953
Helen Wright
Senior Program Associate, CCC
---
As a Senior Program Associate at CRA, Helen Wright interacts with members of the research community and policy makers to organize meetings, workshops, and outreach activities.
Most recently, she was a Science Education Analyst at the National Science Foundation working on promoting excellence in undergraduate STEM education for the Education and Human Resources Directorate. Helen organized and participated in a number of outreach events and conferences for many programs including theAdvanced Technological Education (ATE) Program, whose goal is to increase the education of technicians for the high-technology fields that drive our nation's economy.
She holds a bachelor's of science in biology as well as a master's of science in ecology and evolutionary biology from the University of Virginia.