CRA joined 31 other scientific societies and universities yesterday in showing off the results of NSF-sponsored research at the 10th annual Coalition for National Science Funding Science Exhibition and Reception on Capitol Hill. CRA was ably represented at the event by DK Panda and his students (Jiuxing Liu, Pavan Balaji, Ranjit Noronha, and Sayantan Sur) from The Ohio State University, who presented work on software that allows high performance, scalable communication using the InfiniBand networking technology.
The Exhibition was a great opportunity for making the general case for federal support of basic research, especially at NSF. This year's event was widely-attended. Many key congressional staffers, influential Members of Congress, and important members of the Administration and NSF took time out of their schedules to see the exhibits. Here's the proof! (click for larger images)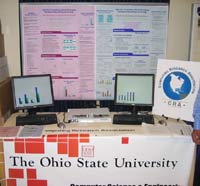 The CRA booth. Underneath the table were four PCs clustered together with InfiniBand. Two monitors show the results of some benchmarking apps comparing InfiniBand to Gigabit connections.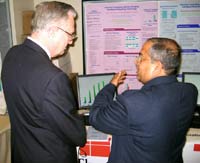 NSF Director Arden Bement (left) listens to Professor Panda describe his research.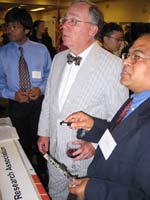 Ohio congressman Dave Hobson (R-OH), a very influential member of the House Appropriations Committee. Hobson has the distinction of being the only member to serve on the appropriations subcommittees for Defense, VA-HUD-Independent Agencies (home of NSF funding), and Energy and Water (which he chairs).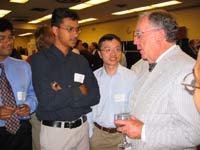 Hobson takes some time to speak with Panda's students.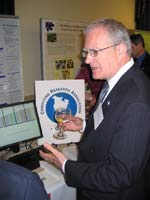 Director of the White House Office of Science and Technology John Marburger stops by the CRA booth.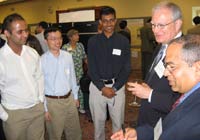 Marburger also took time to speak with the students and ask some additional questions about the research.
Thanks again to Professor Panda and his students!