As part of the Coalition for National Science Funding (CNSF), CRA brought participants to the 2nd annual CNSF Fall Hill Visits Day this week. The overall visits brought over 80 people from many scientific disciplines to Capitol Hill to meet with lawmakers and staff regarding NSF funding. Robert Constable from Cornell University, Mary Jane Irwin from Penn State University, Joe Kearney from the University of Iowa, Charles Nicholas from the University of Maryland Baltimore County, and Michael Oudshoorn from Montana State University, below with Sen. Max Baucus (D-MT), ably represented CRA and met with 30 Congressional offices to emphasize the importance of NSF funding to computer research and innovation. The participants shared their personal research and funding stories and many others from their universities. The message was well received on the Hill with many offices encouraging participants to follow up in the future with stories or problems involving research and funding.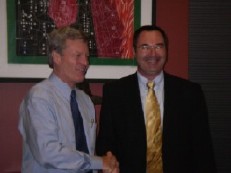 As we've noted before, meetings between scientists and members of Congress and their staff are an incredibly effective tool in keeping Congress interested and engaged in the needs of scientists. The examples of research done in a particular district are invaluable to a member of Congress and can be a real boon for science when it comes time for appropriations votes. It's also important to point out that Congressional offices will not turn away constituents who ask for a meeting although it often means you will meet with a staff member instead of your Senator or Representative. Don't discount those meetings—Congressional staffers are the eyes and ears of their bosses!
We highly encourage all members of the CRA community to get in touch with their Congressional delegation, either by visiting Washington, DC or going to their local offices. If you have any questions or concerns about setting up appointments or meeting with Congressional staff, please let us know. We're happy to help any way that we can.