Attend the Inaugural Undergraduate Virtual Town Hall!
---
Originally Printed in the Summer/Fall 2015 Newsletter.
by Lori Pollock, University of Delaware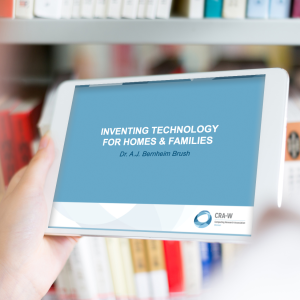 Would you or someone you know like to hear about leading edge computer science research conducted by a female computer scientist? Would you or someone you know like to participate
in short discussions about CS research paths, graduate school opportunities, time management, undergraduate research opportunities and other topics suggested by undergraduate students? If so, the Virtual Undergraduate Town Hall is for you!
On Thursday October 8, 2015 from 2-3pm Pacific/5-6pm Eastern, CRA-W will be hosting the inaugural event in the Virtual Town Hall series. When we say "Virtual Town Hall", you can think webinar so you can attend from anywhere you have an internet connection. For the inaugural event, we are excited to have Dr. A.J. Brush, a principal UX architect at Microsoft Research present "Inventing Technology for Homes & Families". This 20-minute talk will provide a glimpse into the forefront of research in Human-Computer Interaction. Dr. Brush studies and builds technology for homes and families so she is helping to create the future in which you will be living. During the webinar, opportunities will exist to ask questions and find out where to learn more about the topics Dr. Brush researches. Following Dr. Brush's research presentation, she will provide insights into how to start a research career
path through an interactive discussion about graduate school opportunities and the application process.
You may be wondering why a virtual town hall? Our goal is to reach as many undergraduate women majoring in Computer Science and related fields as possible to provide them information on research and how to pursue a research path. We want all undergraduate women to be exposed to the research ideas that are being pursued by women researchers and that are changing the world on a daily basis. We want to provide mentoring advice from distinguished women computer scientists about research career possibilities and how to pursue those possibilities. And we want to spread the word about how to get involved in research, by pursuing an undergraduate research opportunity or by considering graduate school.
We anticipate holding approximately six virtual town hall events each year. If possible, we encourage undergraduate women to organize with friends and virtually attend an event together, such as an ACM-W or similar club event. How about attending over pizza or having an ice cream party at the same time? By attending together, you can carry on the discussions started in the webinar with others. If you are worried it might be a boring screencast, never fear! We will provide plenty of opportunities for you to ask questions and we will also ask for your participation in interactive polls to facilitate sharing across the virtual town hall participants. So even if you end up attending from your own computer with a headset, we promise you an interactive experience and value your input as we aim to make each instance of the virtual town hall better.
If you have an idea for a speaker for a virtual town hall, if you have a particular mentoring topic you would like to see raised, if you have any ideas at all, please contact Melissa Borts as we would love to hear your ideas!
So, spread the word and plan to tune in on October 8th to be a part of the first CRA-W Virtual Town Hall.