CRA-WP Grace Hopper Celebration (GHC) Research Scholars Program
CRA-WP will not hold the GHC Research Scholars in 2023. 
Overview
The objective of the GHC Research Scholars program is to increase the number of undergraduate women with an interest in computing research.

The program brings undergraduates to the annual Grace Hopper Celebration and engages them in a unique, research-focused experience, providing 

them a mentor, networking opportunities, and advising toward graduate school and research careers in computing.
The program will utilize the availability of role models and existing programming at the Grace Hopper Celebration, while simultaneously providing guidance to research-interested students on how to navigate the vast offerings at the conference and opportunities to meet and interact with students and mentors with similar interests in small-group settings.
The program includes three gatherings of all Research Scholars and mentors (two breakfasts and a reception), as well as research-focused activities throughout the conference. Research Scholars are required to attend these (approximately 2-3 hours each day of the conference), and are also required to reflect on them. A complete list of required and suggested activities will be distributed to Research Scholars before GHC.
This material is based upon work supported by the National Science Foundation under Grant Number (1840724). Any opinions, findings, and conclusions or recommendations expressed in this material are those of the author(s) and do not necessarily reflect the views of the National Science Foundation.
Eligibility
Eligibility
Applicants must be undergraduate women who have completed at least one year of undergraduate study at the college level by the time of the conference (Fall 2020)
You must be in the field of computer science, computer engineering, informatics or closely related fields
You must be attending a US institution and/or be a US citizen or permanent resident studying abroad
You must be 18+ years of age by the start of the program
We can not support students after their graduation date
Graduate students are not eligible for this scholarship
Any questions on eligibility can be directed to ghcrs@cra.org.
Application
For the GHC Research Scholar Application, applicants must provide:
Current unofficial transcript
A resume or CV
Essay: Submit a brief (less than 500 words) essay describing your interest in participating in the CRA-WP GHC Research Scholars Program. Please describe any prior research experiences you have had (not required) and/or your interest in participating in research in the future, either during this current academic year or during the upcoming summer.
1 letter of reference (preferably from a professor in the discipline)
Travel & Financial Support
Pending final funding, reasonable travel expenses will be reimbursed by CRA after scholars attend the Grace Hopper Celebration.
1) Expenses CRA covers directly:
CRA will directly cover the cost of the $450 student registration to the Grace Hopper Celebration. Selected Research Scholars will be provided a registration link and code, which must be used for their registration. Registrations completed outside of this process will not be reimbursed.

All CRA-WP GHC Research Scholars will share a hotel room with another scholar. CRA will directly pay for the hotel room expenses; however, scholars must provide a credit card or debit card to the hotel upon check-in for any incidental expenses they may incur.
2) Expenses CRA-WP GHC Research Scholars incur and then request reimbursement after attending GHC:
CRA will reimburse your actual reasonable travel expenses up to a limit of $350.00. Please save all your receipts, as you will need those when submitting your reimbursement request after GHC.
All questions can be directed to ghcrs@cra.org.
Resources
2019 GHC Research Scholars Passport
Participants of the CRA-WP Grace Hopper Celebration 2019 Research Scholars program will utilized this passport to navigate the conference and have a better understanding of the activities that are provided for undergraduate students interested in Computer Science Research and Graduate School.
---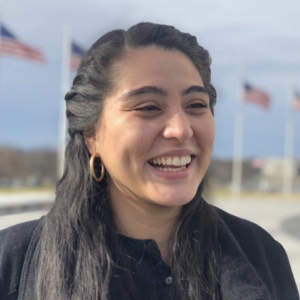 Alejandra Guzmán
Program Associate