Catching Up: Hopper Conference
---
Things have been a bit busy around CRA world headquarters recently, which is why blogging has been a little infrequent. Apologies to those who've noticed. 🙂
One of the recent events worth mentioning was the 2004 edition of the Grace Hopper Celebration of Women in Computing conference held two weeks ago in Chicago. This year's event marked the 10-year anniversary of the Hopper Conferences and was the most well-attended yet — over 800 women in computing came for the talks or the posters or just the chance to meet their colleagues and network.
Both CRA and CRA's Committee on the Status of Women in Computing (CRA-W) used the occasion to present a couple of important awards. CRA recognized the winner of our Outstanding Female Undergraduate award — Anna Cavender, from the University of Oregon — along with the runner-up (Heather Wake, University of South Carolina) and those who received Honorable Mentions. Here's my poor attempt at capturing the group (the professional photographers photo will be much better, I'm sure):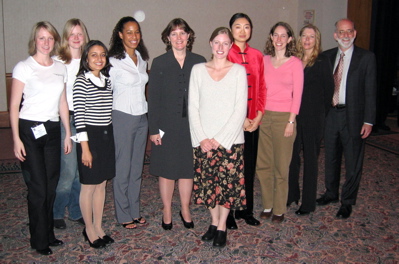 Enlarge (opens in a new window)
From left: Kristin Vadas, Georgia Tech; Erika Shehan, Purdue; Arati Kurani, DePaul; Heather Wake; Jan Cuny, CRA-W member; Anna Cavender; Dong Hui-Xu, DePaul; Katrina Ligett, Brown; Jane Tougas, Dalhousie; Andrew Bernat, CRA Executive Director
CRA-W used the occasion to present its Anita Borg Early Career Award for 2004 to University of British Columbia professor Johanna McGrenere.
The award honors the late Anita Borg, who was an early member of CRA-W and an inspiration for her commitment in increasing the participation of women in computing research. Dr. McGrenere is the first recipient of this award to be given annually by CRA-W to a woman in computer science and/or engineering who has made significant research contributions and who has contributed to her profession, especially in the outreach to women. This award recognizes work in areas of academia and industrial research labs that has had a positive and significant impact on advancing women in the computing research community and is targeted at women that are relatively early in their careers (no more than 10 years past the Ph.D.).
Dr. McGrenere has made outstanding contributions to the field of Human Computer Interaction (HCI). Particularly relevant to this award is her leadership on the Aphasia Project – a large, multi-disciplinary effort spanning several academic fields, institutions and organizations in participatory technology research and design. Anita Borg, who suffered from aphasia as a result of brain injury from her cancer, was the first participant of McGrenere's Aphasia project. The technology aided Anita (and now others suffering from aphasia) to continue with daily activities. Two of the ideas that Dr. McGrenere's group is developing are an icon-based recipe book and a digital planner.
You can read the whole release here. Johanna wasn't able to attend the conference (she was in the late-term stages of pregnancy), but sent her graduate student Karyn Moffatt: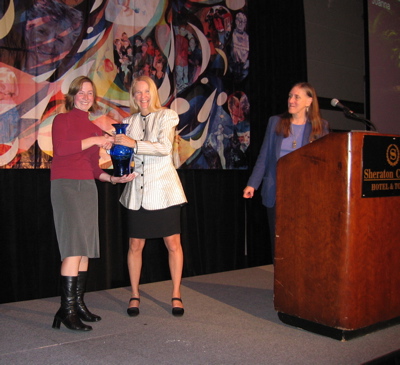 Enlarge
Moffatt accepts the Anita Borg Award on behalf of McGrenere from CRA-W member Mary Jane Irwin, while CRA-W co-chair Carla Ellis acts as MC.
It was a great event and I was thrilled to have spent some time chatting with the members of CRA-W at the banquet (thanks for letting me crash your table) and with a number of attendees throughout the conference. (Though as good as the conference was, I hope everyone was able to sneak out a bit and enjoy the amazing fall weather in Chicago. 🙂 )