Industry Task Force
Chairs: Greg Hager and Limor Fix
Gregory Hager
CCC Chair
Johns Hopkins University
Gregory Hager, CCC Chair, Johns Hopkins University
Website
---

Gregory D. Hager is a Professor and former Chair of Computer Science at Johns Hopkins University. He received his BA from Luther College and his MSE and PhD from the University of Pennsylvania in 1986 and 1988, respectively. After a year as a Fulbright scholar at the University of Karlsruhe, he joined the faculty of Yale University in 1990. He moved to Johns Hopkins in 1999. His research interests include image-guided robotics, human-machine collaboration, and medical applications of image analysis and robotics. He has served as the Deputy Director of the NSF Engineering Research Center for Computer Integrated Surgical Systems and Technology, he serves on board of the International Federation of Robotics Research, and he is a fellow of the IEEE for his contributions in vision-based robotics. He serves as Chair of the Computing Community Consortium.
Limor Fix
Formerly Intel
Limor Fix Website
---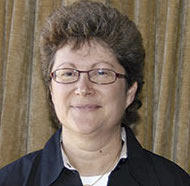 Limor Fix was the director of University Collaborative Research (UnCoR) at Intel. UnCoR is the primary university-facing division of Intel Labs. UnCoR funds a wide variety of research grants at universities around the world. These grants range from small seed funds to large academic Intel Science and Technology centers. Limor has a PhD in computer science from the Technion, Israel. After graduation, she conducted post-doc research at Cornell University and in 1994 joined Intel. Limor led a major change in Intel's validation technology and methodology. She developed innovative formal verification system that has been widely adopted by Intel's design teams. In this role, Limor led the development of a new formal specification language, ForSpec, that was donated by Intel to Accellera/IEEE and had a major impact in the IEEE-1850 standard. Limor also co-led the Intel's research lab that was located at Carnegie Mellon University and had developed leading technologies in machine learning, vision, micro-architecture and other disciplines. Limor has published more than 30 papers; she is the co-author of the book "Electronic Design Automation for Integrated Circuits handbook"; she served as the general chair for the Design Automation Conference, the premier conference for VLSI design tools and methodologies.
We need to better understand the computer science research ecosystem in industry and see if more can be done for the entire research community. How can academia engage industry and vice versa?
Industry and Academia Survey
In spring 2015, the Computing Research Association (CRA) and the Computing Community Consortium (CCC) released two short surveys, one for the academic community and the other for industry, to learn about academic-industry interactions. The purpose was to provide a picture of the types of interactions currently taking place, and to identify common barriers to those interactions. In addition, the CRA and CCC were looking for feedback on ways that they could strengthen the relationship between the two.
The CCC also held a community roundtable in the summer of 2015 to start the discussion between academia and industry and explore questions such as:
Where is the computing field going over the next 10-15 years?
What are potential opportunities, disruptive trends, and blind spots?
Are there new questions and directions that deserve greater attention by the research community and new investments in computing research?
What are the implications for teaching, training of students?
What is the role of industry in facilitating or supporting computing research?
We are at a crossroads where more PhD graduating students (and even some faculty) are going to work in industry rather than in academic jobs.  What are the implications for the future of the field?
Thirty individuals, mostly from industry but a few from academia, gathered in California for one day to discuss these questions. The introduction slides from the roundtable event can be found here.
A white paper about the roundtable and the academia and industry has been released. Read the white paper here.