Grad Cohort Workshop for Women
PLEASE NOTE: At this time, CRA-WP plans to hold the workshop in person. We continue to monitor the COVID-19 pandemic and will determine if changes are necessary as we approach the event dates.
Deadline: November 15, 2021 (11:59 PM ET)
Overview
Are you a graduate student in computing-related studies, interested in interacting with successful women in your field who can give you advice on topics such as how to find and develop your research topic, how to prepare for your career after graduate school, and how to balance work and life?

If so, please join us at the next CRA-WP Grad Cohort for Women!
At the Grad Cohort for Women, you will spend two days interacting with about 20 senior female computing-related researchers and professionals, who will share pertinent information on graduate school survival skills, as well as more personal information and insights about their experiences. The workshop will include a mix of formal presentations and informal discussions and social events. By attending Grad Cohort for Women you will be able to build mentoring relationships and develop peer networks that will form the basis for ongoing activities during your graduate career and beyond.
The CRA-WP Grad Cohort for Women, initiated in 2004, is generously funded by sponsors from industry, academia, the National Science Foundation, and the computing community. The workshop aims to increase the ranks of senior women in computing-related studies and research by building and mentoring nationwide communities of women through their graduate studies.
---
This is an NSF-funded program. This material is based upon work supported by the National Science Foundation under Grant Number (1840724). Any opinions, findings, and conclusions, or recommendations expressed do not necessarily reflect the views of the National Science Foundation.
Eligibility
Master and Ph.D. students in their first, second or third year of graduate school in computer science and engineering or a closely related field, who are attending an institution in the U.S. or its territories, or an institution in Canada, and who identify as women. Students who have not previously attended a Grad Cohort Workshop will be given priority.
If there are extenuating circumstances for applying beyond the timeframe listed in the eligibility requirements, please make sure you address this in the application. Extenuating Circumstances beyond an applicant's control include, but are not limited to:

Documented medical condition or serious illness
Documented learning disability
Death of a family member or friend
Involuntary call to active military duty

Maternity/family leave
Application
While we would like to include all students interested in a research career, we are limited by funding and space. We make every attempt to achieve broad diversity goals by considering multiple factors including institution, citizenship, racial and ethnic background, disabilities, etc. Research success is not a criterion in the selection or application because our goal is to include those who might benefit the most from advice, although we do give priority to Ph.D. students over MS only students.  Beyond this, some funding comes from the home departments, so acceptance of some students may depend on whether the home department is willing to support additional students.
We do our best to include as many universities as possible with the goal of the most widespread dissemination. The intent is that the students who attend should be able to share their experiences with their colleagues in their home institutions when they return.  We also give priority to students who have not attended Grad Cohort for Women before.
The application process is fairly simple. We will collect:
Full name, email, number, city and state
Gender identity, race, ethnicity, citizenship, residency status, disability status, veteran status
ACM or ACM SIGs membership and interest, IEEE-CS membership and interest
Primary academic affiliation, department, research area(s), degree program and number of years, department chair and advisor name and email
CV Link URL, previous attendance to either Grad Cohort
Why do you want to attend Grad Cohort?
CRA Privacy preferences
Travel & Financial Support
Reasonable travel expenses will be reimbursed by CRA-WP through funds generously provided by our Grad Cohort sponsors.
Resources from Past Years
Sponsorship
We are currently accepting sponsorship for the 2022 CRA-WP Grad Cohort Workshops! We welcome sponsorship at any level and would be happy to provide recognition in all printed and web materials.
Sponsor Benefits:
Access to the CRA-WP Graduating Class Directory
| | |
| --- | --- |
| Sponsorship Level | Directory Access |
| Platinum | October |
| Gold | December |
| Silver | February |
| Bronze | N/A |
Access to the Grad Cohort Database
| | |
| --- | --- |
| Sponsorship Level | Database Access |
| Platinum | January |
| Gold | February |
| Silver | March |
| Bronze | N/A |
COVID-19 Conference Protocols
To maximize the safety of all attendees, we have put in place the following protocols for the in-person event.

Failure to complete and/or follow any of the required COVID-19 Conference Protocols may result in removal from the event and denial of reimbursement requests.
---
Recommendations
Participants are strongly encouraged to conduct PCR Testing within 72 hours prior to boarding their flight to the workshop. This will ensure each individual is healthy before arriving onsite. 
Requirements
Participants must be fully vaccinated –

Provide proof no later than 14 days prior to the event start time that you are fully vaccinated for COVID-19, including any and all booster dose(s) for which you are eligible;

Participate in guided Rapid Antigen Testing on-site –

Testing will occur prior to event registration check-in. You will need results prior to receiving workshop credentials.

Masks –

All participants must use a mask at all times during the workshop with the exception of while actively eating during meals and for presenters who are actively giving a talk.
In the event of a positive COVID-19 result, the individual agrees to:
Immediately notify CRA of any positive result

Isolate in a hotel room (if you are not local and are away from home)

Not attend any further conference activities

Prepare an isolation plan and share it with CRA
Participants understand that despite CRA's efforts to ensure a safe environment for the workshop there remains a risk of contracting COVID-19. Participants agree to follow these COVID-19 protocols and understand and assume the risks associated with attending the event.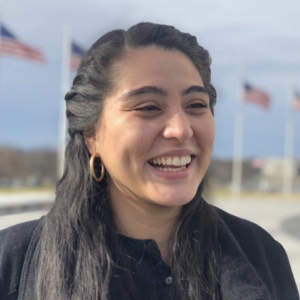 Alejandra Guzmán
Program Associate