President Barack Obama released his Administration's fiscal year 2012 budget request in mid-February, stressing the need to increase funding for federal science agencies as a way of ensuring the U.S. can "out-innovate, out-educate, and out-build" the rest of the world. The President's budget continues his commitment to double the funding for the National Science Foundation, the Department of Energy's Office of Science, and the National Institute of Standards and Technology.
The same week, House Republicans brought to the floor their proposal for dealing with the unfinished FY11 budget, a stop-gap spending bill that would cut budgets at those same science agencies from 5 to 18 percent compared to FY10.
The two approaches highlight two dramatically different philosophies about addressing America's economic and federal debt crisis, and make clear the challenge facing the science advocacy community this year.
The President's approach acknowledges the difficult financial environment facing the government by freezing overall non-defense discretionary spending at FY10 levels, but makes some "strategic" investments in areas such as research and education that the Administration argues are crucial for the country's long-term health and competitiveness.
The House Republican approach, spelled out in a stop-gap funding bill called a "continuing resolution"—necessary because the previous Congress could not reach a resolution to FY11 funding through the normal appropriations process—would cut $61 billion in discretionary spending compared to FY10, fully $100 billion less than the President requested last February for this fiscal year. Included in those cuts are substantial cuts to the Department of Energy's research efforts, as well as cuts to the National Institutes of Health, NIST, and NSF.
Neither proposal makes any substantial change to the massive entitlement programs like Social Security and Medicare that constitute the mandatory spending that makes up the bulk of the federal budget.
The House Republican proposal is more immediately relevant. As this goes to press, the House is debating the proposal as H.R. 1, a bill that combines the unfinished FY11 Defense Appropriation bill with a continuing resolution that relieves Congress from having to pass the remaining 11 unfinished appropriations bills. Because Congress could not finish its work on the FY11 appropriation bills by the start of the 2011 fiscal year on October 1, 2010, federal agencies have been operating since then under a continuing resolution that allows them to spend money at the same rate they spent in FY10. This has placed many agencies in a sort of limbo—plans for new programs or new hires have been placed on hold until Congress can reach resolution on the FY11 budget. The current continuing resolution expires March 4, 2011. If Congress fails to reach agreement on a new budget, or pass another stop-gap funding measure by then, most government agencies could be forced to shut down. H.R. 1 would end the limbo the agencies face by giving them certain funding for the remainder of FY11.
The version of H.R. 1 the House is considering as this goes to press is actually the second version of the bill proposed by House Appropriations Chair Harold Rogers (R-KY). In the original proposal, Rogers' bill contained substantial cuts to the DOE's Office of Science ($874 million less than FY10, an 18 percent reduction) and NIST (15 percent reduction), but provided an increase in funding for NSF ($340 million vs. FY10, or 6 percent). However, that proposal, which cut a total of about $32 billion from the FY10 budget overall, was roundly rejected by the 179-member-strong Republican Study Group in the House as being insufficiently austere, and Rogers was forced to revise the proposal and find deeper cuts. The revised bill contains $61 billion in cuts to existing spending, more than $100 billion less than the President requested for FY11, and includes larger cuts to DOE Science and NIST and reverses NSF's originally proposed increase, replacing it with a 5 percent reduction in budget.
The Republican leadership brought the bill to the floor under an "open rule," a somewhat unusual move for a continuing resolution, which allowed any member to offer an amendment to any portion of the bill while under consideration. As a result, at press time, there were more than 400 amendments pending, leaving final House-approved funding levels for federal science agencies uncertain. Also adding to the uncertainty is the Democrat-controlled Senate, which is far less likely to go along with the deep cuts to science programs likely to be approved by the House. It is very unclear how the House and Senate will reach compromise numbers, and how the threat of a Presidential veto will impact the negotiations. For the latest updates on how science agencies fared in FY11, see CRA's Computing Research Policy Blog (https://cra.org/blog).
The President's budget request takes a much more favorable view of the importance of the federal investment in science, a message the President has apparently decided to make a key theme of his presidency. In January, the President spent the first 25 minutes of his State of the Union address focused on research and education and their importance to innovation and the long-term competitiveness of the U.S., a remarkably prominent mention for R&D. He followed it with two weeks of speeches throughout the country touting his innovation theme. In one sense, the effort has been a boon to the science advocacy community, giving prominence to issues and themes they've been trying to raise for years. In another, though, the additional attention has actually made federal R&D a lot more contentious and partisan. Because the President has made science funding a cornerstone of his Administration, those looking to oppose the President almost have to oppose more federal spending on science.
Politically, this may be a smart move for the President as it allows him to set up the Republicans as the anti-science, anti-innovation, anti-progress party. Practically, though, it makes the job of the science advocacy community much more difficult because what used to be a non-partisan, almost non-noticeable chunk of the federal budget is now a prominent, partisan battle. It is easier to make gains in today's narrow-electoral-margin times by being non-partisan and under the radar. That tension is likely to color science advocacy efforts going forward this year and next.
In his budget request, the President has prioritized funding for a number of key science agencies. Under the President's plan, NSF would receive $7.77 billion in FY12, an increase of 13 percent over FY10 (comparisons with FY11 are impossible because Congress still has not finished FY11 appropriations as this goes to press). NSF's Research and Related Activities (R&RA) accounts would see an increase of 12.4 percent versus FY10, an increase of $689 million. NSF's Education and Human Resources account would also grow, though at a more modest 4.4 percent, a $38 million increase.
Computing research at NSF would see a disproportionate level of increase in the President's budget—an indication that computing research is viewed as especially responsive to agency and national priorities. NSF's Computer and Information Science and Engineering (CISE) directorate would see an increase of $109.6 million to $728.4 million in FY12, a 17.7 percent increase over FY10—well above the R&RA average of 12.4 percent and second only to the Engineering directorate's 22.1 percent increase. Investment in IT research foundation-wide would increase to $1.26 billion in FY12, an increase of $167 million over FY10, or 15 percent.
The DOE's Office of Science would also see a healthy increase under the President's plan. Funding at DOE Science would increase 9.1 percent compared to FY10, to $5.4 billion. DOE's Advanced Scientific Computing Research program would grow 22 percent to $466 million in the request. And Basic Energy Sciences would grow 24 percent to $1.9 billion in FY12.
NIST would see significant increases under the President's plan as well. NIST's research accounts would grow more than 48 percent from FY10, to $872 million in FY12. That funding includes $621 million for NIST's research accounts in Scientific and Technical Research Services, an increase of $160 million vs. FY10.
Also notable in the President's Budget Request is a proposal to auction a portion of radio spectrum and use the proceeds from that auction to fund a new Wireless Innovation and Infrastructure Initiative. This aims to double the amount of wireless spectrum available for mobile broadband, provide at least 98 percent of Americans with access to 4G high-speed wireless, create a $3 billion fund to enable R&D of emerging wireless technologies and applications (including $1 billion in research funding at NSF), develop and deploy a nationwide, interoperable wireless network for public safety, and funnel nearly $10 billion into deficit reduction over the next decade. The President's proposal requires an act of Congress both to set the auction and determine where the proceeds would be spent, but the plan should help catalyze the discussion in Congress.
Congress will take up the President's budget as soon as they finish work on the FY11 continuing resolution. Republicans in the House have already characterized the plan as "dead on arrival" for its failure to aggressively rein in federal spending, but Democrats in the Senate will have much to say on the issue as well.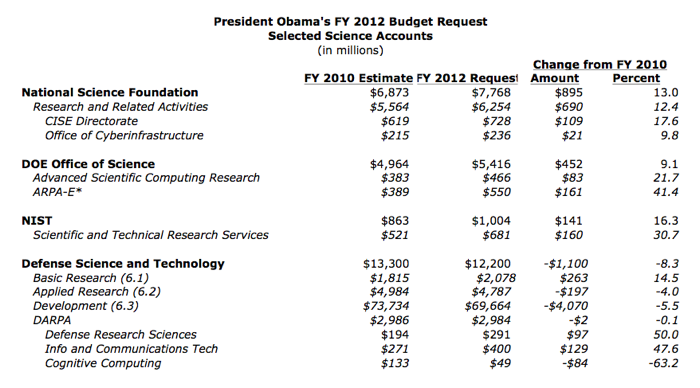 As always, check CRA's Computing Research Policy Blog for all the latest numbers and news.