The 2013 Grace Hopper Celebration of Women in Computing Conference
---
The annual Grace Hopper Celebration of Women in Computing (GHC) is a multi-day conference focused exclusively on the research and career interests of women in computing. GHC is the flagship conference of the Anita Borg Institute and is presented in partnership with the Association of Computing Machinery (ACM). Inspired by the legacy of Rear Admiral Grace Murray Hopper, the architect behind COBOL, GHC was first held in 1994, led by Anita Borg, founder of the Anita Borg Institute (ABI), and Telle Whitney, current CEO of ABI.
GHC encourages women to pursue and remain in the field of computer science by providing a wide range of role models, peer-networking opportunities, and up-to-date information on advanced technical opportunities and career paths in computing. The conference offers multiple sessions designed to address specific career development needs of women in computing, such as: technical exposure, collaboration, inspiring role models and community building. Conference speakers are leaders in their respective fields, representing industrial, academic and government communities. Special sessions focus on the role of women in today's technology fields, including computer science, information technology, and engineering.
The conference includes several critical components designed to address the barriers to women in computing:
Technical Exposure: GHC breaks down stereotypes by celebrating the accomplishments of women in the field of computer science, showcasing their technical success and offering a supportive environment where their ability as a computer scientist is encouraged. The successes of women from underrepresented minority backgrounds are also broadly highlighted, further breaking the stereotypes associated with gender and race. Some of the fields' most respected researchers and practitioners in many of the computing disciplines come to GHC to present significant technical work. Keynote speeches are delivered by outstanding women from a variety of areas provide vivid role models and inspiration for the attendees. A large poster session and technical breakout sessions are held with short technical presentations, allowing broader participation by the attendees—these also provide students with a crucial opportunity to present their technical work.
Collaboration and Information Exchange: GHC presents multiple perspectives, which spurs innovation. Speakers are asked to comment on open problems with emphasis on possibilities for significant advances that require collaboration within and across areas of expertise.
Role Models and Inspiration: By gathering a large number of professional technical women together in a single forum, attendees establish ties to groups of successful role models and potential mentors.
Networking, Community Building, and Breaking Down Feelings of Isolation: Networking and community building are central tenets of GHC. A crucial GHC function is to break participants' feelings of isolation and create a sense of community for women in computing both during and after the conference.
Participant feedback confirms that the GHC continues to provide a forum in which technical women from myriad backgrounds come together for information exchange, role models and inspiration, networking and community-building.
Inspiration can spur participants to take actions as well as act as change agents themselves. Respondents' reported the following intentions as a result of attending the conference:
40% will advocate for change in their teams, departments or organizations.
17% joined one or more online communities.
16% joined Systers.
11% started a mentor-mentee relationship.
Overall, the evaluation resultssuggest that the Grace Hopper Conference plays a positive role in attendees' career development. Nearly all respondents were inspired by role models at GHC, three-quarters of female respondents feel less isolated as women in technology, three-quarters of all respondents reported that GHC increased their commitment to their chosen careers, and two-thirds perceived that attending GHC has increased their networks of technical women.
In 2012, the GHC conference theme was "Are We There Yet?" It gave us an opportunity to assess where we were in our respective career paths, and where we were collectively as a community. We assessed the decline of female undergraduates receiving degrees in computing related disciplines, our progress in increasing the number of women in the C-suite and as Fellows and Senior Fellows in their respective institutions and organizations, and the fundamental challenges of the recruitment, retention and advancement of technical women. Efforts to recruit more engineers and scientists into STEM (and computing in particular) have never been greater. As a result, the theme for the 2013 Grace Hopper Celebration of Women in Computing Conference, the world's largest conference for women in computing, is THINK BIG. DRIVE FORWARD. We challenged our community this year to help create a conference that was aspirational and forward thinking. We expect over 4000 women and men to attend from over 40 countries. Over 300 scholarships were awarded, thanks to our generous corporate and academic sponsors, and over 200individuals will have provided their expertise, serving on boards, committees, and as reviewers, judges, session chairs, Hopper volunteers, and staff, which collectively form the Grace Hopper community.
At the same time, we at the Anita Borg Institute and the conference planning committee challenged ourselves to "Think Big" as well, when we started planning this conference nine months back. We realized that technical women need forums where they can connect with experts in their technical fields and at the same time, grow their leadership skills and identify opportunities for career advancement return to the workforce after a leave of absence, change fields, and keep their technical skills current, while balancing the demands outside of work and school. This resulted in a conference that is now structured in a way that allows us to have in-depth conversations on cutting edge technology in the areas of Software Engineering, Mobile Experiences, Media and Entertainment, Medical Technology and Education Technology. We believe in nurturing the person as an individual as well, and have some robust professional development offerings. We devote an entire day on Wednesday to bringing out the leader within you via workshops, thought provoking panels and talks.
The conference will open each day with keynote speakers and plenary sessions led by highly distinguished and accomplished women such as Maria Klawe (President of Harvey Mudd College), Sheryl Sandberg (COO Facebook and Co-Founder LeanIn.org), Ana Pinczuk (SVP Cisco) and Dr. Arati Prabhakar (Director, DARPA). Our "ABIE" Award winners, who are recognized by the community for their contributions in Social Impact, Technical Leadership and as Change Agents across the world, are celebrated at an evening of inspiration. These women serve as examples across generations and exemplify the conference theme. These talks will no doubt spur conversations that are provocative, difficult, and necessary to drive the change that is needed for technical women to move forward.
Invited speakers who have changed the status quo in their respective technical fields with their innovative work include: Brenda Chapman (Academy Award winner and first woman to direct an animated feature, Brave), Sheila Nirenberg (Professor of Computational Neuroscience in Computational Biomedicine at Weill Cornell Medical College), Thad Starner (Professor at Georgia Institute of Technology and Technical Lead/Manager on Google's Project Glass), Elaine Weyuker (ACM Fellow, IEEE Fellow and AT&T Fellow at Bell Labs for research in software metrics and testing), Pooja Sankar (CEO and Founder, Piazza) and Elise Foster (Education Practice Lead, Wiseman Group). These talks are quite inspiring and can be life changing for the attendees, as borne out by the open-ended comments gleaned from the post-conference survey.
CRA-W figures prominently at GHC 2013 with Graduate, Early Career Faculty, and Mid-Career Faculty workshops. Graduate workshops include Graduate School Survival Skills, Publishing your Research, and Building Your Professional Network. Early Career Faculty workshops include Finding Your Dream Job, Starting and Growing Your Own Research Program, and Preparing for Promotion. Mid-Career Faculty workshops include Funding, Career Success After Tenure, and Effective Leadership & Creating Change. For undergraduates, CRA-W will host tables in the Student Opportunity Lab where they can learn about graduate school and the application process.
Our ability to attract diverse, high quality talented women in computing is noteworthy. Attendees can submit resumes to the GHC database, and sponsors have access prior to the start of the conference. Last year we had over 100 industry and academic sponsors eager to recruit at our Career Fair.
We also have our eyes on technology and career trends that we are showcasing via a "Best Of" track, which includes "Best of Minnesota, Leader in Medical Innovations," "Computing on Wheels: Insider's look at the automobile of today and beyond," "Retention Solutions for Individuals, Managers and Leaders – ABI Research," "Best of … ACM SIG'S," "Best of … Future Trends," "Entrepreneur should really be a verb not a noun," Margaret Martonosi – ABIE Technical Leadership Award Winner, and the ACM Student Research Competition.
We are inviting 40 local Minneapolis high school students to attend this prestigious event as part of ourGrace Hopper GenConnext program. 30% of the selected students will be from underserved or low income groups. Their immersive experience includes being part of the conference activities and participating in a gaming workshop that requires no coding experience.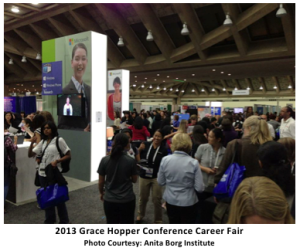 All this culminates in an evening that celebrates all of our accomplishments and the strides that we have made thus far. And an all day code-a-thon for humanity where 200 women will code side by side with women from across the globe to contribute their skill and time to open source projects.
Be part of the community that is driving technology. We look forward to your sponsorship and advocacy of women and men in your institutions and organizations to attend this conference. Free childcare is provided to attendees who register in advance. See you atGHC 2013!
About the author:
Seema Gururaj is currently the Director of the Grace Hopper Celebration of Women in Computing (GHC) at the Anita Borg Institute. During her tenure as the Director, the conference received its highest quality rating and now welcomes over 4000 women from all over the world. She has 10+ years of experience in a career that has spanned a technical leadership role at IBM to social entrepreneurship, designing strategies for local as well as international non-profit organizations. Her Social Impact Portfolio includes creating an impact in diverse areas like women and technology, education, health care, and an urbanization think-tank.