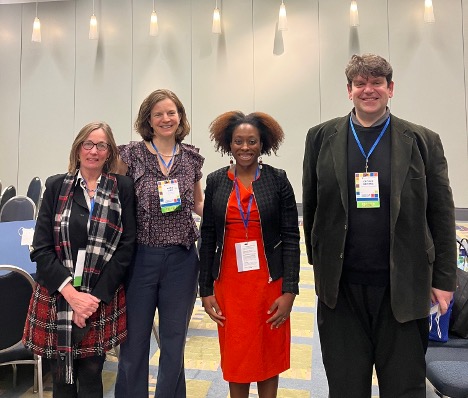 On the second day of the 2023 AAAS Annual Meeting, held in Washington, DC, the CCC supported its first of six panels, titled, Surveillance, Assistance or Hinderance?: Caregiving Technologies for Older Adults. The three panelists were Robin Brewer (University of Michigan), George Demiris (University of Pennsylvania), and Anne M. Turner (University of Washington), and the panel was moderated by CCC Council member Katie Siek (Indiana University).
Professor Turner kicked off the panel with a detailed description of the Decision Making in Alzheimer's Research (DMAR) project which she leads. This project is funded by the National Institute on Aging and focuses on strategies for tracking preferences of older adults with Alzheimer's and their caregivers in making decisions about care. Furthermore, it aims to develop tools to help elicit the preferences of older adults with dementia. Much of Alzheimer's care is currently conducted without taking into account the changing preferences of older adults with dementia, such as their family situation, cultural traditions, and specific needs of their caregivers. Dr. Turner, with her research team at the University of Washington, conducted an initial study with 79 older adults, their caregivers and providers to determine the best ways to incorporate their preferences into care plans. These interviews focused on identifying decisions surrounding supporting care for these older adults, and the timing and reasoning behind these decisions. Dr. Turner and her colleagues found that older adults with dementia had difficulty discussing their future care; however, through development of a discrete choice-based survey the team is able to identify and track the preferences of older adults with dementia and compare these preferences with caregivers over time. 
The next panelist, George Demiris, focused on smart home technologies to help monitor older adults. These technologies can take the form of wearables, such as bracelets or necklaces, or passive monitoring technologies, such as depth sensing cameras or pressure plates. Dr. Demiris began his presentation by identifying the societal need for these types of technologies. The national shortage of caregivers has pushed society towards utilizing assistive technologies to fill in gaps left by the lack of workforce. Though these technologies will be used by many older adults and their caregivers, Dr. Demiris emphasized the need for individualized technologies rather than "one size fits all" models. To ensure that these technologies are helpful to older adults, these tools should continuously measure aspects of an individual's physiology, behavior, and symptoms. This level of surveillance, however, is seen by many older adults as invasive. It is important, therefore, to design these devices to be transparent and to gather only data that are necessary. For example, Professor Demiris introduced the sense4safety initiative, which uses depth sensors to detect an individual's gait and ambulatory ability. This technology aims to improve identification of fall risk factors over time, and also pairs older adults with telehealth professionals to help develop plans to reduce fall risk. While this technology does require constant monitoring of the older adult in question, by using depth sensors rather than video cameras, the technology is far less invasive without compromising its effectiveness. The goal for these technologies in the long term, Dr. Demiris said, is to create proactive, rather than reactive models which could notify an older adult or caregiver of an increased fall risk before the fall takes place.
Lastly, we heard from Dr. Robin Brewer who discussed reframing how voice assistant technologies can help facilitate communication between older adults and their caregivers. Many older adults struggle with using new technologies because they are unfamiliar with the interfaces and do not want to bother with learning them. Voice assistants, such as Apple's Siri or Amazon's Alexa, remove the need to learn a new interface, and thus these technologies have become increasingly popular with older adults. Older adults, however, are not interested in using these technologies to monitor their health, because many of them have deteriorating medical conditions about which they do not want to hear frequent updates. One gentleman, when asked whether he would use a voice assistant to help monitor his health, responded:
"I don't need that. My health is a mess. You have no idea all the problems I got. My eyesight is going. I've got glaucoma. I just had a cataract removed […] I've got dental work that needs to be done. I've got bad kidneys for the last 25 years […] I can go on. I'm a physical mess. If Alexa knew the state I was in, the tower would weep. It would cry." (Robert)
Dr. Brewer instead proposed that voice assistant technologies be used to promote communication between older adults and their caregivers. Dr. Brewer administered a 2 week diary study of older adults and their caregivers asking them to answer the same three questions each day: 1) What was the most meaningful care interaction today? 2) What made it meaningful? 3) Is there anything you wanted to communicate to your care partner today, but didn't? Dr. Brewer found this last question to be the most revealing.
Underlying tensions between caregivers and older adults can diminish the conversations they have, because there are existing truths that neither side wants to acknowledge. An example of this that Dr. Brewer mentions is of an older adult shopping in the grocery store. This individual wrote that they like to grocery shop slowly, so that they can have time to browse. However, this activity they used to look forward to "becomes a chore and a mission to accomplish a goal in the minimum of time as I waste another's" when shopping with a caregiver, but this individual didn't feel comfortable mentioning that to their caregiver. Caregivers, on the other hand, often indicated how they feel stressed with the task of managing both of their wellbeing and trying to not make the older adult feel like a burden. These kinds of underlying social graces can severely limit conversations between two parties, and Dr. Brewer believes that utilizing voice technologies beyond informational services to help scaffold conversations can help with the dearth of communication between caregivers and the older adults they care for.
Click here to read the full blog post including the complete Q&A with the panelists.