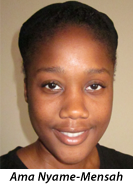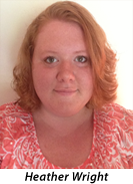 In August CRA welcomed two new staff members as research assistants for the Center for Evaluating the Research Pipeline (CERP), Ama Nyame-Mensah and Heather Wright.
At CERP, Ama helps evaluate programs that are aimed at promoting demographic diversity in computing fields. She holds a Bachelor of Arts degree in Economics from the University of Delaware and earned a Master of Arts degree in Urban Affairs and Public Policy from the same institution in 2013. While at the University of Delaware, Ama focused her studies on examining the role of social and technological innovation in economic development.
In her role at CERP, Heather is working on evaluating the CI Fellows Project. She graduated from Radford University in 2013 with a Bachelors of Science in Sociology, with minors in Technical and Business Writing and Women's Studies. Previously, Heather worked as a Research Assistant for the Center for Social and Cultural Research.