2014 Computing Innovation Fellows Workshop: Research, Innovation, Impact
---
The Computing Innovation Fellows (CI Fellows) project, was a program that granted short-term postdoctoral fellowships to help keep recent graduates in the field during the economic downturn. Between 2009 and 2011, 127 PhD graduates in computer science and related fields were awarded CI Fellowships. The program has ended and the former CI Fellows are now in the early years of their formal careers.
Computing Innovation Fellows (CI Fellows) from all three cohorts (2009, 2010, 2011) assembled on May 22-23 in San Francisco, CA to reflect on the success of the program and absorb information and advice from leaders in computing research. This was the first gathering of all three cohorts since the program started. The theme was "Research, Innovation, Impact," and CI Fellows took advantage of the opportunity to listen to keynotes in each area.
The opening address was the research keynote, delivered by Peter Lee, Corporate Vice President, Head of Microsoft Research, titled Why Research Matters, Now More than Ever. Peter originated the idea for the Computing Innovation Fellows Project and was the first PI. He encouraged the CI Fellows to live outside their comfort zones, and embrace Blue Sky, curiosity driven research. He reminded them not to lose sight that research is a long term investment. Practical applications are not always apparent in visionary ideas and research, but the expanded knowledge base often leads to the development of useful products.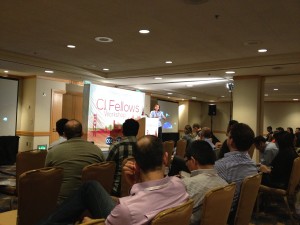 Megan Smith, VP at Google[x] gave the impact keynote on Heroic Engineering, Talent, and Network Effects.Farnam Jahanian, Assistant Director for the Computer & Information Science & Engineering (CISE) Directorate at the National Science Foundation (NSF), delivered the innovation keynote on The Imperative of Research in the Innovation Ecosystem.
Throughout the workshop, participants gained insights from senior computing researchers in sessions that covered topics such as strategies for writing a successful research proposal, communicating research with a broader audience, developing mentoring relationships, how to handle difficult situations and making time for important things. Click here to view the full program agenda. The plenary sessions were recorded and will made available online soon.
As a follow up to the CI Fellows project, the Computing Community Consortium (CCC) is now administering the Postdoc Best Practices program. It is a program to develop, implement and institutionalize the implementation of best practices for supporting postdocs. This new grant program is another effort to advance postdocs and their contributions to the research enterprise. Information on the program can be viewed here.
CCC would like to thank Microsoft Research and the National Science Foundation for their support of the workshop. The organizing committee included Miriah Meyer and Bobby Schnabel (Workshop Co-Chairs), Sitaram Asur, Mary Czerwinski and Ann Drobnis (CCC Director).