Borg Early Career Award Winner: Lydia Tapia
---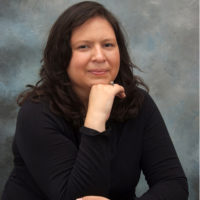 Lydia Tapia, an assistant professor in the Department of Computer Science at the University of New Mexico, was recently named the recipient of the 2017 CRA-W Borg Early Career Award (BECA). The award honors Anita Borg, who was an early member of CRA-W, and is inspired by her commitment to increasing the participation of women in computing research. The annual BECA is given to a woman in computer science or engineering who has made significant research contributions and contributed to her profession, especially in the outreach to women.
Tapia received her B.S. in computer science from Tulane University and her Ph.D. in computer science from Texas A&M University. Her research contributions are in the development of computationally efficient algorithms for the simulation and analysis of high-dimensional motions for robots and molecules. Specifically, she explores problems in computational structural biology, motion under stochastic uncertainty, and reinforcement learning. Her research has been supported with more than $5 million of funding from the National Science Foundation (NSF) and National Institutes of Health (NIH). It also has led to her filing two patents: one on a novel unmanned aerial vehicle design and another on a method to design allergen treatments.
Tapia is also the recipient of the 2016 Denice Denton Emerging Leader ABIE Award from the Anita Borg Institute for her high-quality research and a significant positive impact on diversity, and a 2016 NSF CAREER award for her work on simulating molecular assembly. As a Ph.D. student, she was awarded a NIH Molecular Biophysics Training Grant Fellowship, a Sloan Research Fellowship, and a P.E.O. scholarship.
She is most proud of the achievements of her students. Their accomplishments, to date, include a Popejoy Award for top Ph.D. dissertation at the University of New Mexico, being a finalist in the CRA Outstanding Undergraduate Researcher Award, and an honorable mention in the National Center for Women in Information Technology Aspirations Award for high-school students. When Tapia and her students are not toiling in the lab, you can often find them performing interactive robot demos at local schools, robotics competitions, and museums.