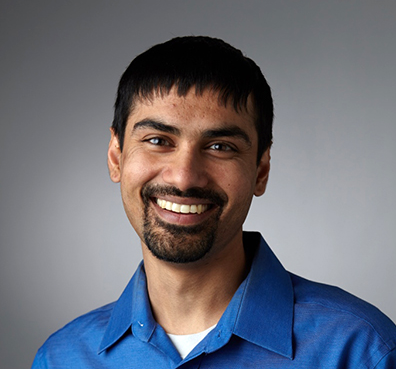 Former Computing Community Consortium (CCC) Council member and Professor of Computer Science &  Engineering and Electrical & Computer Engineering at the University of Washington, Shwetak Patel, was just anointed to the Georgia Tech College of Computing's Hall of Fame and Business Insider's list of "30 leaders under 40" who are changing healthcare. He is being recognized for a broad scope of work ranging from home energy monitoring (Zensi) to a mobile health company (Senosis Health). Along with being a professor and head of Ubicomp Lab, Patel holds the Washington Research Foundation Entrepreneurship Endowed Professorship; is the Director of health technologies at Google Health and FitBit Research; was the recipient of the MacArthur Genius Fellowship, the NSF Career Award/PECASE Award, and the ACM Prize in Computing; and has started three companies.
Patel's innovative work began with the realization that people everywhere are already carrying around technologies that have the capability to monitor and detect health problems on an on-going basis. Smartphones and watches possess on-board sensors such as the cameras, microphones, accelerometers, and gyroscopes that eliminate the need for ongoing trips to the clinic and access to expensive equipment. Patel and his team have developed apps for assessing lung function, detecting jaundice in babies, measuring hemoglobin, and measuring heart and respiratory rates all using tools found on the standard cell phone.
More recently, with the emergence of COVID-19, Patel and his lab shifted their focus to aid in the pandemic response. They have been working on smart-phone-based tools to assist with contactless monitoring of symptoms and vitals. He has also teamed up with other labs to help create means of quickly and effectively interpreting rapid diagnostics test results with a smartphone and using air filtration systems on public transportation to detect viral spread.
Patel grew up in Birmingham, Alabama in the motel that his parents owned. He credits his interest in computing and creating to his early exposure to computers and the hands-on work, such as fixing plumbing and electrical issues around the motel. Patel went on to get his PhD at Georgia Tech where he spent time with the ATDC – a program that helps translate technology into commercial impact. This helped him to realize that he could do the basic research that he loved and have an impact. He has clearly implemented this practice in his career with the co-founding of three companies Zenzi, an energy monitoring company, SNUPI Technologies, a low-power home wireless sensing company, and Senosis Health, a mobile health company. 
Patel has served on the CCC Council from 2015-2021. In his time here, he helped write numerous whitepapers and blogs, organized a workshop on Computational Support for Substance Use Disorder Prevention, Detection, Treatment and Recovery and sat on multiple task forces. To find out more about his career path and work please check out his interview on the CCC's Catalyzing Computing podcast here.