Snowbird CCC "Reboot!" Session
---
Last month at CRA's Conference at Snowbird the Computing Community Consortium (CCC) led an after-dinner brainstorming session, "Reboot!" to help members of the community engage in a visioning discussion. Led by Sujata Banerjee, Nadya Bliss, Liz Bradley, Bill Gropp, Dan Lopresti and Ann Schwartz, the session featured a series of discussions and idea sharing among the community pertaining to two topics chosen to inspire a lively discussion and to get people thinking outside of their areas – Neural Programming and Artificial Intelligence (AI) Customized to Human Norms. You can read the full description of each topic here.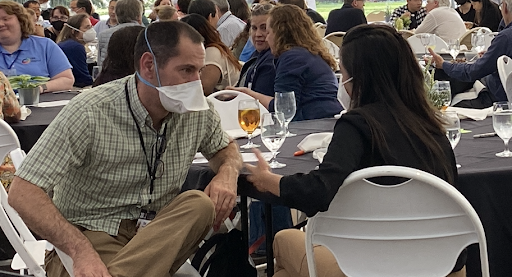 Participants were asked to find a partner and discuss a series of questions. The whole process began again with a new partner for the second topic. Questions for each can be found below:
Preparing for a Neural Programming Revolution:

Neural generative pre-training (GPT) language models have shown promise in applications to programming, raising the question: What happens when programming becomes completely automated?

Questions to discuss:

Is this a terrible idea?

What are the possible affordances?

What will be the hardest part in getting it right?

AI Customized to Human Norms

Making AI technology adhere to human norms is challenging!

Questions to discuss:

What if the norms implemented by the creators of an AI-based technology do not match those of the users or others who are impacted by the technology?
What is the hardest part of determining the norms to which AI should be customized?

In particular, how should we resolve conflicts between the norms of different groups?
After the discussions, participants went back to their seats and were asked to share their ideas in one sentence. Many ideas were recorded on the virtual Mural below, either in the group share or transcribed after the event. 
The goal of the session was to get people brainstorming together and, hopefully, engage in new, innovative ideas for the computing community to explore. The community needs more of these types of creative, facilitated activities to recover "innovation loss" from the pandemic. You can check out CCC's visioning activities on the CCC website.
We welcome you to participate in generating ideas, either as they relate to these two topics or other areas entirely by filling out this form. We hope this session sparked ideas and conversations that will continue beyond Snowbird and catalyze new collaborations around critical research problems.