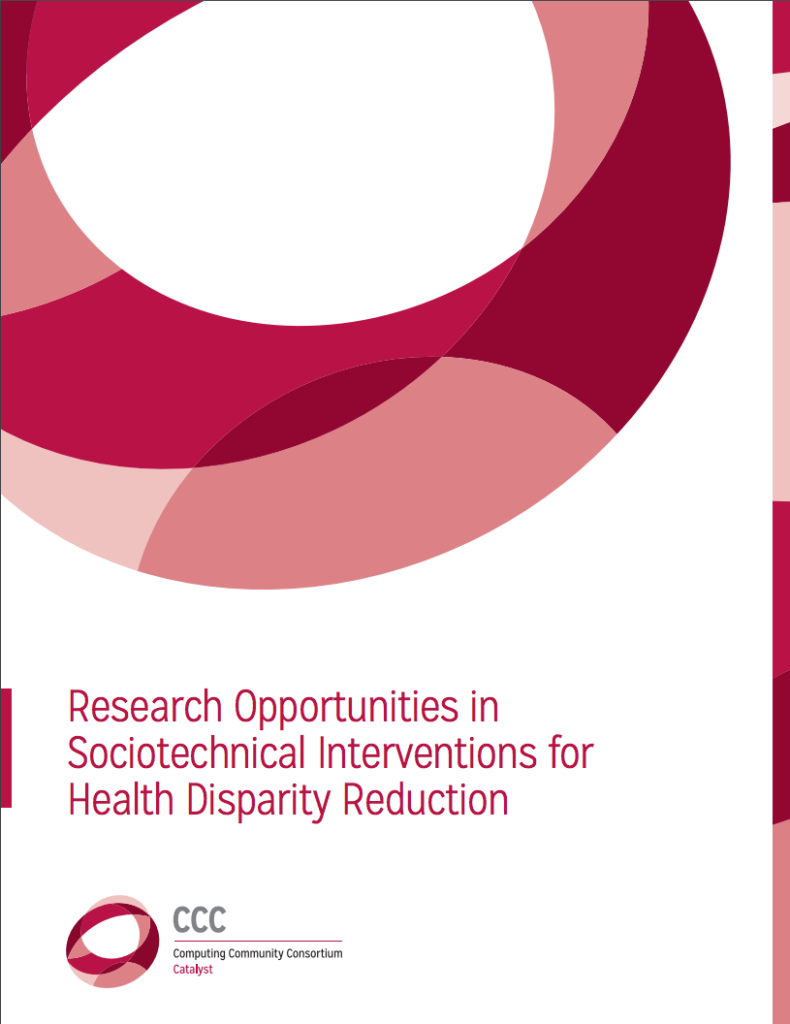 The Computing Community Consortium (CCC) recently released the Research Opportunities in Sociotechnical Interventions for Health Disparity Reduction workshop report. The CCC's 1.5 day Sociotechnical Interventions for Health Disparity Reduction workshop took place in April 2018 in New Orleans, co-located with the Society for Behavioral Medicine's 39th Annual Meeting.
This cross-disciplinary workshop, brought together leading researchers in computing, health informatics, and behavioral medicine to develop an integrative research agenda regarding sociotechnical interventions to reduce health disparities and improve the health of socio-economically disadvantaged populations.
"Health disparities are differences in disease prevalence, incidence, morbidity and/or mortality in one group as compared to the general population. In Western countries, groups which experience disparities in health outcomes include:
People of lower socio-economic status (SES) based on income, wealth, education, and occupation;
Racial and ethnic minority groups including African Americans, Latinos, Native Hawaiians/Pacific Islanders, and Indigenous peoples;
Rural and urban residents;
Lesbian, gay, bisexual and transgender (LGBT) people;
People with disabilities; and
Men or women (varies by health issue)"[1]
Some research challenges and opportunities identified in the report include:
Challenges
Opportunities

Marginalized groups are understudied because of difficulty with recruitment, retention, or trust issues.

Ensure researchers have resources to build and maintain community-based research collaborations.
Develop and evaluate methods of recruitment, technology uptake, and study retention for studies that work with marginalized communities.

Current sociotechnical interventions focus on "downstream" interventions where a participant manages a set of issues specific to themselves. Downstream interventions do not address the social origins of health disparities

Support is needed to develop upstream and multi-level interventions to reduce health disparities by impacting community, social, economic, and political factors.

When we create sociotechnical interventions that have an impact on outcomes, it is not clear what part of the sociotechnical intervention initiated and maintained that change

Encourage funding agencies to continue supporting broader impacts in research to ensure researcher are addressing issues that are important to communities.
Emphasize the need for pilot studies and iterative design to ensure initial conditions are correct.
Evaluate the "dose" of sociotechnical systems to better understand the frequency of use, as well as the dosing contexts and infrastructure support available.

Current behavioral theories and models often do not account for sociotechnical systems and are not representative of marginalized populations

Document instruments, data streams, and mappings between sociotechnical systems and theories used.
Develop dynamic new theories that can account for future sociotechnical systems and capture the social contexts of marginalized populations.

Researchers must measure multiple dimensions of social determinants of health to evaluate impact at the population level, but there is a lack of dynamic theories, study designs, or metrics to capture the changing technological and contextual landscape of marginalized populations.

Create and document equity-relevant metrics that can capture appropriate levels of detail to contextualize user groups and interventions.
Develop, evaluate, share, and validate study designs and theories for interventions.

By designing to improve health disparities, researchers may introduce unintended consequences (e.g., everyone benefits and thus the disparities stay the same or worsen).

Establish research processes that check on what groups, data, or resources are unaccounted for and monitor unintended consequences.
Ensure data collection about unintended consequences.
Engender a research culture in which learning, sharing, and disclosing failures are encouraged.

Based on past treatment in research, some marginalized groups may have less trust in research. These trust issues are exacerbated when it is unclear how study participation or data access – especially in commodity products – is scoped.

Produce systems that assist researchers in identifying ethical issues and proactively assess risks with benefits.

Researchers in multiple disciplines are encountering similar issues in their research endeavors to address health disparities, but continue working in their disciplinary silos – sometimes reinventing each others' approaches or solving the same problems.

Develop a consortium or national centers to address health disparities that bring researchers from multiple disciplines together with partners to address the research to practice gap.
You can read the full workshop report here.
[1] Research Opportunities in Sociotechnical Interventions for Health Disparity Reduction, page 2