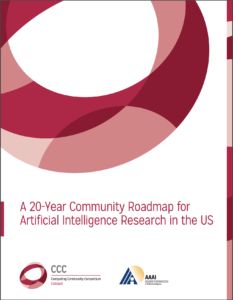 Recently, the Computing Community Consortium (CCC) released the completed Artificial Intelligence (AI) Roadmap, titled A 20-Year Community Roadmap for AI Research in the US! An HTML version is available here. Slides summarizing the roadmap are now available here. We encourage you to use these when sharing the community vision.
This roadmap is the result of a year long effort by the CCC and over 100 members of the research community, led by Yolanda Gil (University of Southern California and President of AAAI) and Bart Selman (Cornell University and President Elect of AAAI). Comments on a draft report of this roadmap were solicited in the Spring of 2019 and incorporated in the final report.
We would like to thank everyone again in the community who participated in workshops, helped write the report, submitted comments, and edited drafts. Your input and expertise helped make this roadmap extremely comprehensive. Please continue to share ideas with the community by presenting the slides to your colleagues and sending out the report.